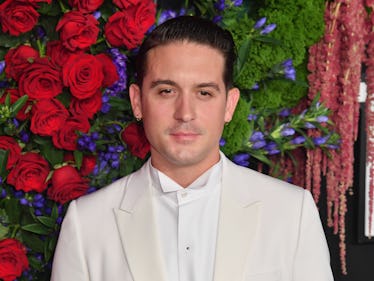 Wow, G-Eazy Has Dated A Whole Bunch Of A-Listers
ANGELA WEISS/AFP/Getty Images
Trying to keep up with G-Eazy's love life feels like a nearly impossible feat. Not only has the rapper has seemingly had a slew of "almost-relationships" that never quite turned serious, but he's also been embroiled in countless dating rumors that even the most expert sleuthing couldn't clear up. His long-term partnership with Halsey was highly publicized, but did you know that he's also been involved with several other celebs in the music world? G-Eazy's relationship history is full of famous faces, and some of them may have totally flown under your radar.
Here's the thing. Save for a few sporadic interviews circa 2017-2018 in which G-Eazy gushed about his feelings for Halsey, he's remained pretty tight-lipped about his love life over the years. Still, social media posts and random sightings have sparked speculation that he had romantic ties with a slew of pop stars — including Britney Spears and Megan Thee Stallion, among other A-listers. At one point, there was even a rumor about G-Eazy getting cozy with Demi Lovato (he later assured fans they're "just friends").
From savagely talented songstresses to fierce models and rappers, G-Eazy has gotten involved with *quite* the roster of ladies over the course of his career. And fortunately for you, I'm going to break down every single romantic situation he's gotten into over the last five years, from serious relationships to fleeting flings.