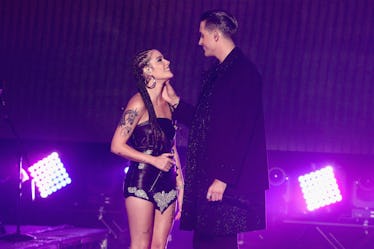 Halsey & G-Eazy's Relationship Timeline Proves Their Breakup Is Sad, But Not Surprising
Frederick M. Brown/Getty Images Entertainment/Getty Images
In this era of tragic celebrity breakups, it can be hard to keep track of who's still together. Unfortunately, it seems as though the celebrities who do stay together are becoming more and more rare. Like, when dissecting Halsey & G-Eazy's relationship timeline, for instance, it's clear that even though fans are sad they ended things, it was probably for the best. Their relationship started off strong, but seemingly went downhill very fast. Maybe them going their separate ways was for the best.
Now, in case you haven't been keeping up, Halsey and G-Eazy announced their breakup about two weeks ago, when Halsey shared a simple statement to her Instagram stories. Against a white background, the singer wrote:
I normally keep this kind of thing private but provided our public nature I feel the need to inform my fans. G-Eazy and I are taking some time apart. I'm eager to continue the upcoming passage of time dedicating myself to my art and my career, and the duration of my tour. I wish him the best. Thanks for respecting our privacy at this time.
So that's it, isn't it? They're done. While some fans are hopeful that they'll reunite, there's no way to know if it'll actually happen. But for now, we can take a look back at the timeline of their relationship, to try and make sense of it all and see if maybe there was a chance we could've seen their split coming.