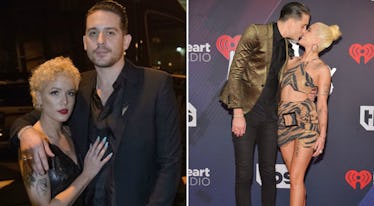 Halsey & G-Eazy's Body Language Before Their Breakup Reveals So Much
Jason Koerner/Getty Images for E11EVEN/ Rachel Murray/Getty Images
By now, you've probably heard the news that it's a wrap for Halsey and G-Eazy, and if their adorable couples photos gave you life, Instagram will never be the same. This was a breakup I never saw coming. As far as I could tell, Halsey & G-Eazy's body language before their breakup didn't seem like that of a couple on their way to a split. But here we are.
If you weren't familiar with the couple, here's some quick background on their relationship. Rumors about the couple first began in August 2017 when G-Eazy brought Halsey onstage to perform "Him & I" during his Bud Light Dive Bar Tour in New Orleans. The following day, Halsey confirmed the rumors by posting a photo of them on stage with the caption: "Thank u baby." What followed was nearly a year of adorable Instagram photos, joint performances, and public appearances that made them appear to be ultimate couples goals. As recently as March, G-Eazy told E! News on the red carpet of the iHeartRadio Music Awards that "She's a queen. I think the world of her, for real." And Halsey stood by her man when, in May, he was arrested and pled guilty to assault and drugs charges in Sweden. So it came as a huge shock when Halsey suddenly announced the split via Instagram, saying:
"I normally keep this kind of thing private but provided our public nature I feel I need to inform my fans. G-Eazy and I are taking some time apart. I'm eager to continue the upcoming passage of time dedicating myself to my art and career, and the duration of my tour. I wish him the best. Thanks for respecting our privacy at this time."
While neither has publicly confirmed the reason for the sudden split, a source told E! News that, allegedly, the couple went their separate ways because of "ups and downs" over the past year in their relationship. The source added, "They both tried to remain strong to ensure their work commitments together went smoothly, but ultimately called it quits after too much fighting. The trust was lost between the pair when they were apart, and it got too difficult for both of them."
There is also some speculation that the breakup was due to G-Eazy cheating. These rumors are fueled by two cryptic tweets posted by Halsey. The first was simply two emojis: A pair of scissors and an eggplant, which fans have speculated refers to a line from the former couple's song, "Him & I" that says, "If I ever cheated she would try to cut my d*** off." Halsey later deleted the tweet, but replaced it with one reading "Pumpkin eater." Again, seemly a play on "Cheater cheater, pumpkin eater." While none of this is confirmation of infidelity, it is very shady.
While we'll never know for sure what happened between these two until they confirm it themselves, the question remains: Could we have seen this coming? In order to answer that question, I reached out to body language expert Blanca Cobb, who took a look at photos of the couple taken over the course of their relationship, to see if there were any hidden hints (that I clearly missed) that the breakup was coming. Here is what she sees.