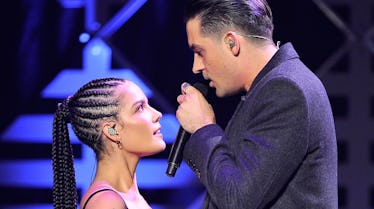 Here's What Reportedly Caused Halsey & G-Eazy's Breakup & It's Truly Devastating
Steve Jennings/Getty Images Entertainment/Getty Images
It's been an emotionally draining process following the breakup between Halsey and G-Eazy. Fans all agreed these two were the real deal, so when Halsey announced their split (and then basically insinuated he cheated on her), no one knew what to think. Why did Halsey and G-Eazy break up? New reports say the breakup had more to do with the struggles and difficulties of their demanding careers and work schedules, which just freaking sucks. Elite Daily reached out to both Halsey and G-Eazy's teams for comment on the report, but did not hear back by the time of publication.
It's only been about a week since the public learned about Halsey and G-Eazy's decision to call things off and a new source is claiming they have the inside scoop. An insider reportedly told E! News the two have actually had "ups and downs" for a while, brought on by their challenging careers. The source said, "They both tried to remain strong to ensure their work commitments together went smoothly, but ultimately called it quits after too much fighting." The insider added, "The trust was lost between the pair when they were apart, and it got too difficult for both of them."
Speaking of trust...
Fans think it's possible G-Eazy cheated on Halsey after she posted two cryptic tweets on the week of July 4. The first tweet was simply a pair of scissors emoji, which made people think she was referring to G-Eazy's iconic line in their collaboration song, "Him & I." The words in question are: "If I ever cheated she would try to cut my d*** off." She later deleted the scissors tweet, but followed it up with the simple words, "pumpkin eater," possibly referencing the old nursery rhyme "Peter Peter Pumpkin Eater" regularly recited as "Cheater Cheater Pumpkin Eater."
Nothing has been confirmed, but the source says both G-Eazy and Halsey are still reeling from their split. Apparently, G-Eazy is "very bummed about the breakup but is trying to focus on his new music and keep busy," and Halsey is "angry at the situation and thought they were going to be together for the long run." Still, according to this insider, there still might be hope. "They are taking time apart to heal right now but both definitely miss each other," they said.
Halsey first dropped the sad news on July 3 via her Instagram story. She shared a simple message that read:
I normally keep this kind of thing private but provided our public nature I feel the need to inform my fans. G-Eazy and I are taking some time apart. I'm eager to continue the upcoming passage of time dedicating myself to my art and my career, and the duration of my tour. I wish him the best. Thanks for respecting our privacy at this time.
The truth is, both parties are fairly young and have plenty of time to rebound in big and wonderful ways in their love lives. It just always hurts when you think two people are perfect for each other.
According to Halsey, G-Eazy pursued her relentlessly before they got together at the end of summer in 2017. She told E! News at the 2018 Billboard Music Awards, "He was just really persistent. He really wanted to hang out and really wanted me to like him a lot. It took me a while to be like, 'Fine. Okay I like you back.'"
Fans are crossing their fingers and toes these two can work it out. It would be a bad*ss miracle!
Check out the entire Gen Why series and other videos on Facebook and the Bustle app across Apple TV, Roku, and Amazon Fire TV.