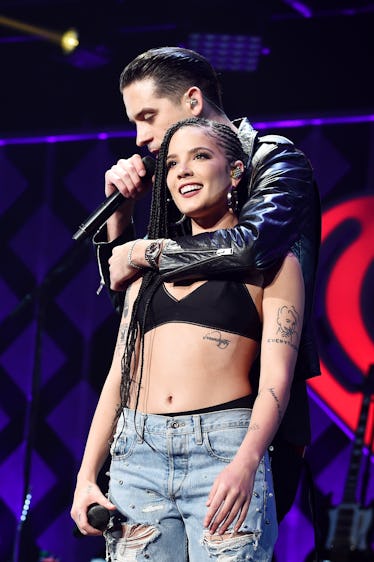 Halsey's Cryptic Tweets After Splitting With G-Eazy Have Fans Convinced He Cheated & I Can't
Theo Wargo/Getty Images Entertainment/Getty Images
2018 is the year of famous breakups. Love is dead. Let's all pack up and go home. G-Eazy and Halsey are the latest of what seems to be a celebrity epidemic, and fans are heartbroken and curious about the reasons behind their split. Thanks to some seriously cryptic tweets on Halsey's part, people are now asking the question, "Wait a minute, did G-Eazy cheat on Halsey?" Good lord. I hope not. But, fans think it's possible based on Halsey's tweets. Elite Daily reached out to both Halsey and G-Eazy's teams for comment on the cheating rumors, but did hear back by the time of publication.
Halsey first announced her and G-Eazy's breakup on July 3 when she posted a message on her Instagram story. There was no picture or graphic to accompany her text, just a simple white background and black text. While there were no immediate red flags suggesting G-Eazy might have been more like G-Shady, (sorry), it was only a matter of time before new clues started leaking out.
Her initial message read:
I normally keep this kind of thing private but provided our public nature I feel the need to inform my fans. G-Eazy and I are taking some time apart. I'm eager to continue the upcoming passage of time dedicating myself to my art and my career, and the duration of my tour. I wish him the best. Thanks for respecting our privacy at this time.
Later that day, Halsey tweeted the scissors emoji, though the tweet has since been deleted. Fans immediately jumped to conclusions assuming this might be a reference to G-Eazy's lyrics in their collaboration song "Him & I." The line goes, "Ever catch me cheating, she would try to cut my..."
Get it? Cut? Scissors?
Halsey followed up her deleted tweet with a simple post that says "pumpkin eater" one day later on the Fourth of July. Presumably, this is in reference to the old nursery rhyme "Peter Peter Pumpkin Eater" that has been misheard as "Cheater Cheater Pumpkin Eater" over the years.
Twitter stood up and paid-the-F-attention. Now, cheating rumors are running rampant all over the social media platform and fans are speaking as if it's no longer a theory but rather a fact. Fans say they're "shook" and can't imagine what G-Eazy must have been thinking (if the theory is true).
From the looks of it, 99 percent of fans are completely outraged by the idea and totally jumping on Halsey's side. Many folks are calling G-Eazy names like "idiot," "scum," and "piece of sh*t," ya know, the usual. And, obviously, they're pretty concerned about his... uh... eggplant emoji. If you know what I mean.
If G-Eazy did cheat, it really is coming out of nowhere. According to Halsey, he pursued her relentlessly before she eventually entertained dating him. She told E! News at the 2018 Billboard Music Awards, "He was just really persistent." She added, "He really wanted to hang out and really wanted me to like him a lot. It took me a while to be like, 'Fine. Okay I like you back.'" In fact, she even said she felt a little bit "bamboozled" into the relationship, phrase that takes on a whole new meaning now.
Also, as recently as the 2018 iHeartRadio Music Awards in March, G-Eazy told E! he thinks Halsey is a "queen."
Well, if that's true, you know what it might mean, G-Eazy... off with your...
But, to be fair, Twitter may be getting ahead of itself. Considering Halsey's measured post about their breakup, this theory could be 100 percent off base. So let's just wait for word from Halsey or G-Eazy before we make any judgments.
Check out the entire Gen Why series and other videos on Facebook and the Bustle app across Apple TV, Roku, and Amazon Fire TV.