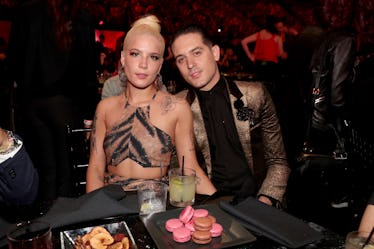 Halsey & G-Eazy Have Officially Broken Up, & Nothing Gold Can Stay
Christopher Polk/Getty Images Entertainment/Getty Images
If you haven't heard, I'm sorry to say that Halsey and G-Eazy have broken up. And since there's no way for me to sugarcoat this, I'm gonna give it to you straight: love is dead, and 2018 cannot get any worse. It's just that they were seriously #CoupleGoals, from the adorable Instagram posts they dedicated to one another, to partnering up on an infectious record that stole some of our hearts, to their coordinated looks on red carpets. I don't know how you're feeling, but I, for one, could not be more in my feelings RN.
Halsey broke the heart-wrenching news through an Instagram story on July 3, and based on her comments (and the fact that she wiped her page of almost every pic of G-Eazy), it looks like their relationship really might be over for good. (I know, I was hoping this was only a break, too.) Halsey wrote:
I normally keep this kind of thing private but provided our public nature I feel the need to inform my fans. G-Eazy and I are taking some time apart. I'm eager to continue the upcoming passage of time dedicating myself to my art and my career, and the duration of my tour. I wish him the best. Thanks for respecting our privacy at this time.
Cue the sobs, because this truly could not be any sadder.
The two have been dating for more than a year, according to People, and have pretty much been inseparable ever since, appearing together at various award shows and even partnering up for their chart-topping 2017 hit "Him & I." But in an interview with Entertainment Tonight on June 29, G-Eazy revealed that they had been consumed with their "hectic" and "busy" schedules more than they were with each other, which could have indicated that was a split was to come. However, he claimed their romance was ultimately going good. (We all know how that goes, though.)
He explained to the outlet:
The thing is, so much of our lives is so scheduled, you know what I mean? And hectic and busy from the travel and the performances and the interviews, and her schedule is just as busy as mine so when they overlap and we get time off, it's like, special.
Halsey opened up about their relationship herself during an interview with E! News at the 2018 Billboard Music Awards on May 20, and her comments were seriously cute. Although she admitted that it took a lot of time and energy for them to finally start dating, when they (eventually) did, they seemingly couldn't have been more into each other.
"He really wanted to hang out and really wanted me to like him a lot," she explained. "It took me a while to be like, 'Fine. OK I like you back.' I'm glad I did. I got bamboozled though a little bit, I think I got tricked into it."
Cuuute!
G-Eazy had also shared some enchanting words about Halsey with E! News at the 2018 iHeartRadio Music Awards just two months earlier, telling the outlet he thought the world of her.
"She's a queen. I think the world of her for real," he explained, before raving about what their "Him & I" collaboration meant to him. "And to get to share a song like this with the person I'm actually in love with and the person that I'm actually dating is dope."
Given all this love between them, it seems like their breakup might really be difficult for the two to get over. But I'm here for you, guys. And as for you readers, hang in there, too. We'll be OK eventually.