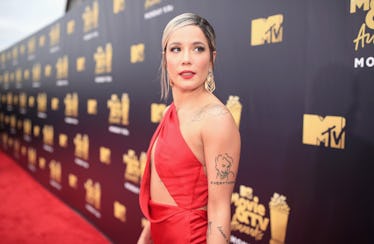 Halsey Cried During Her Concert After Her Breakup With G-Eazy & I'm Crying, Too
Christopher Polk/Getty Images Entertainment/Getty Images
Breakups are hard to handle. Sure, you can vent about your ex with your besties, or you can text them excessively to help make yourself feel better (not that I would know anything about this, ehem). But chances are, it still won't change how emotionally taxing the split is. When it comes to Halsey and G-Eazy, who announced their separation just days ago, it's seemingly just as hard. The singer appears to be having a really hard time in the wake of their split, and it's so heartbreaking — especially this video of Halsey crying during her concert. TBH, you might even wanna grab a tissue (or the entire box) before we begin here.
Halsey broke down while performing the ballad, "Sorry," from her second studio album, Hopeless Fountain Kingdom, during her performance at the Common Ground Music Festival on July 6. She lost it, specifically when she got to the lyrics, "Someone will love you/ But someone isn't me," which makes it all even more distressing.
Given the emotional nature of the song, it could mirror exactly what Halsey is going through following the breakup. But take a look for yourself first, and let's see what you what you make of it.
I'm not crying (anymore)... you are.
Halsey announced her breakup just days ago, on July 3, so it makes sense that her emotions are still raw. In the unfortunate announcement, which the singer shared on her Instagram story, she revealed that they'd decided to take some time apart from each other after dating for around a year. Her post read:
I normally keep this kind of thing private but provided our public nature I feel the need to inform my fans. G-Eazy and I are taking some time apart. I'm eager to continue the upcoming passage of time dedicating myself to my art and my career, and the duration of my tour. I wish him the best. Thanks for respecting our privacy at this time.
Although she didn't provide a reason for the split, fans have speculated the rapper cheated on her, largely because of some of Halsey's recent tweets. Elite Daily reached out to both Halsey and G-Eazy's teams for comment on the cheating rumors, but did hear back by the time of publication. On the day of her announcement, she tweeted the scissors emoji, which fans guessed was referring to G-Eazy's lyrics in their collaboration song "Him & I." The line goes, "Ever catch me cheating, she would try to cut my..."
Get it? Cut? Scissors? Anyway, she ended up deleting the tweet, which raised even more suspicions.
As if that wasn't telling enough, Halsey had also tweeted "pumpkin eater" the next day, on the Fourth of July. Fans guessed it was in reference to the rhyme, "cheater, cheater pumpkin eater."
There's no confirmation on whether or not G-Eazy actually cheated on Halsey. If he did, it'd be pretty disappointing, considering all it took for her to give him a chance in the first place.
The singer opened up about their road to romance during an interview with E! News at the 2018 Billboard Music Awards on May 20, saying:
He really wanted to hang out and really wanted me to like him a lot. It took me a while to be like, 'Fine. OK I like you back.' I'm glad I did. I got bamboozled though a little bit, I think I got tricked into it.
Oh, guys. My heart just broke for her all over again.
But the best thing about all of this is that the pain eventually goes away. So cry your tears, girl. You'll be OK in due time.