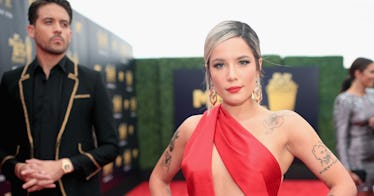 Halsey Just Admitted To Sleeping With An Ex After Her Split From G-Eazy & I'm So Shook
Christopher Polk/Getty Images Entertainment/Getty Images
Are Halsey and Dua Lipa friends? Because if not, they really should be. The "Bad At Love" singer performed at The Event Center at Borgata Hotel Casino & Spa in Atlantic City, New Jersey on July 14, and she totally — I mean, reportedly — talked about her split from G-Easy from the stage during the concert. Yup, she went there, you guys! You know, allegedly. And Halsey's reported comments about sleeping with an ex are actually so relatable that you're gonna wanna write them down. Or at least listen to them without looking down at your phone.
"I learned recently it's OK to be alone, being alone is enough," she apparently told the crowd, according to a report by Us Weekly. "The second lesson I learned is don't f*cking sleep with your ex." That's some stellar advice, right? Elite Daily reached out for clarification about her comment, but did not hear back in time for publication. But if it really did go down this way, when you pair Halsey's comments with Lipa's list of "New Rules" for getting over a former boyfriend — takeaway: if you're under him, you ain't gettin' over him — you've got a pretty bad*ss blueprint for post-split female empowerment right there.
Check out this snippet of Halsey's thoughts on breakup sex:
Tell 'em, girl!
Of course, the "Bad At Love" singer didn't actually mention G-Eazy by name, so she could have been referring to any one of her exes. But she and G-Eazy did just break up on July 3 — please note her use of the word "recently" — so it sounds like there could have been a little breakup sex action. Now she's sharing her newfound wisdom with her fans, and several of them took to Twitter to show the singer their appreciation.
Halsey continued her post-breakup tour later that night at the Borgata's Premier Nightclub, where, according to Just Jared, she called out to all the single people in the crowd, told them that someone had to go home with someone, then added that she wasn't before launching into "Bad at Love."
Not gonna lie, I'm kinda pissed I didn't go to this show.
Halsey first announced that she and G-Eazy had split on July 3 with a message on her Instagram story. There was no picture, just a simple white background with black text. "I normally keep this kind of thing private but provided our public nature I feel the need to inform my fans," she wrote. "G-Eazy and I are taking some time apart."
Later that day, things took a turn when Halsey tweeted out the scissors emoji. The tweet has since been deleted, but not before fans made a connection to G-Eazy's lyrics in the former couple's collab hit "Him & I" that goes, "Ever catch me cheating, she would try to cut my (ha ha ha).
Halsey followed that little bit of shade up with another tweet that said, "pumpkin eater," a possible reference to the nursery rhyme "Peter Peter Pumpkin Eater" that has morphed into "Cheater Cheater Pumpkin Eater" over the years.
It's totally relatable that Halsey had some breakup sex, but props to her for trying to prevent her fans from making the same mistakes. Hey, she did warn us that she was bad at love so we can't really blame her for tryin' now, can we?