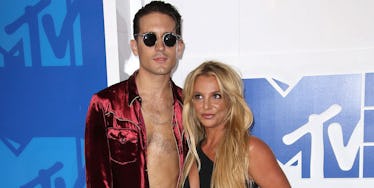 Britney Spears Shutting Down G-Eazy's Kiss At The VMAs Will Make You Cringe
REX/Shutterstock
Britney Spears is back, bitches, and already swerving creepy advances from men on stage.
On Sunday night, the 34-year-old pop princess took the stage at Madison Square Garden for her first MTV Video Music Awards performance in nearly a decade.
Unfortunately for Britney, she had to go on after Beyoncé straight murdered the floor with an incredible 15-minute "Lemonade" performance. It's not her fault, there's just no way she could have successfully followed the Queen.
Still, Britney got up there and did the best she could performing her new single "Make Me," featuring G-Eazy, from her new album "Glory." She had some cool dance moves and some killer visuals, so while it wasn't Beyoncé-level by any means, it was still a decent performance.
But here's the absolute best part about it: At one point, G-Eazy seemed to think it'd be a good idea to go in for a kiss, right there in front of everyone.
Um. Not sure who you think you are, G-Eazy, but unless your name is Madonna, you don't go in to kiss Britney on the VMA stage.
Britney totally swerved the kiss, and G-Eazy was totally shut down.
Boy bye.
For more live coverage of the MTV Video Music Awards, check out Elite Daily's Facebook page and Snap Story, elitedailysnap.
Citations: G-Eazy Attempted To Kiss Britney Spears During VMA Performance Only To Get Brutally Shot Down On Stag (BroBible)