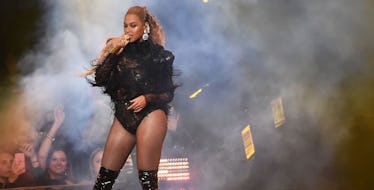 Beyoncé's Flawless 'Lemonade' Performance Was The Best 15 Minutes Of The VMAs
REX/Shutterstock
Everyone else at the MTV Video Music Awards can go home now, because Beyoncé just hands down won the night.
No one should be surprised by this, but everyone should be bowing down to the motherflippin' queen of the night, because seriously, I am still in awe of that performance.
Beyoncé took the stage during an otherwise mediocre show and absolutely blew these amateurs away with a flawless 15-minute performance of songs from her new visual album "Lemonade."
Bey started off with "Pray You Catch Me," followed by "Hold Up." Then she went into "Sorry" and "Don't Hurt Yourself" before finally ending on "Formation."
In other words, she basically performed the first half of the album.
Only the Queen could get away with five freakin' songs for her VMA performance -- AND include the spoken word poems (which she did).
She even hit one of the MTV cameras with her hot sauce bat because she's Beyoncé and she DGAF.
I admit, when I heard those "Formation" notes start, I got chills.
Also, can we talk about Beyoncé's ass for a quick sec? Beyoncé's ass deserves it's own VMA. This ass is legendary.
Bow down, bitches.
Everyone say a pray for Britney Spears, who was tasked with following that mind-blowing performance. That's just cruel, MTV.
For more live coverage of the MTV Video Music Awards, check out Elite Daily's Facebook page and Snap Story, elitedailysnap.