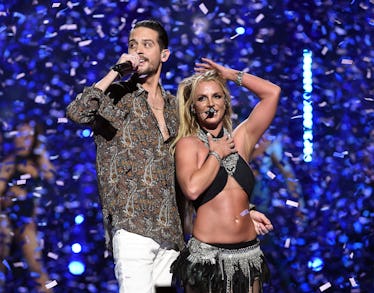 Here's Who G-Eazy Dated Before Halsey, & It Might Surprise You
Kevin Winter/Getty Images Entertainment/Getty Images
In the music world, it's not uncommon for collaborating artists to stir up romance rumors. After all, few things get fans going like speculation that there could be something saucy happening behind closed doors. Since G-Eazy and Halsey performed their first collaboration with "Him & I," it seemed obvious that there was some serious vibing going on between the duo — and not just on a creative level. Anytime our obsession with a new celebrity couple reaches its peak, the details of their past love affairs become need-to-know info. So we have to wonder, who did G-Eazy date before Halsey?
For a little context, G-Eazy and Halsey were first linked together in August 2017, after she joined him onstage for a surprise performance in New Orleans. Soon after, Halsey confirmed their romance by posting a flirty tweet with the caption "Thank u baby".
Long story short, once their romance was in full swing, the #couplegoals they were serving up was almost too cute to bear. Sappy social media posts galore, PDA during public appearances, working together in the studio —you name it, and these two were probably doing it.
All of the love in the air made the news of their early-July split really surprising.
While the exact reason for their split hasn't been confirmed, an insider told E! News that it was due to a combination of their intense schedules and a loss of trust. But Halsey isn't the first gal to call it quits with G-Eazy. Here are some other ladies who have been linked to the rapper.