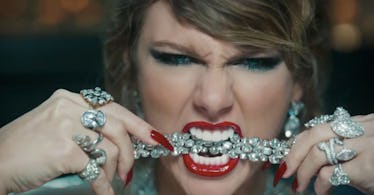 The Shadiest Celebrity Moments Of 2017 That We're Ready To Leave Behind In The New Year
Oh, 2017. How I won't miss thee. If you were to look at this year in memes, you'd see a perfect example of how the nation's collective humor has evolved from "we're all gonna die" memes to #livingmybestlife memes. It shows just how low we were when the Trump era first started, and how much we've grown in our collective humor as we try our best not to let Trump's chaos get the best of us. The shadiest celebrity moments of 2017, while hilarious, were some #negativeenergy that we don't need to bring into the new year with us. We're focusing on positive sh*t now, people! We're purging all of the toxicity from this year and telling it to f*ck off 'cause we healthy now, so to celebrate all of us dedicating ourselves to the "new year, new me" attitudes for real this time, let's review the shadiest celebrity moments 2017 had to offer one last time before casting them out of our minds forever. Because this year has been a flaming dumpster pile of one messed up thing happening after another, and Twitter has painfully documented it all. But it's finally coming to a close, and it's taking all of this year's shadiest moments with it. Bless the f*ck up. Here are all of 2017's shadiest celebrity moments, ranked from least shade to the most:
This is mild shade at best, which is why it's at the top of the list and nowhere near the shady moments that complete this list further down. I would call this "empowering shade," or "breakup shade," or "justified shade," seeing as there's really nothing wrong with Hadid unfollowing Gomez.
Hadid was in a serious relationship with The Weeknd before he started dating Selena Gomez, so their relationship had to have stung Hadid. Why should she keep that negative energy in her life by randomly seeing pictures of them popping up in her news feed? Cut 'em out, honey! 2018 is going to be all about positivity. So, everyone who's ever been hurt by a past bae, lay all that negativity to rest and unfollow them. You don't need it. And if it comes off as shady, who cares? Live your damn life just like Bella Hadid did.
While the reason the old couple got back together is admittedly sweet, the fact that Gomez and Bieber got back together so fast after her breakup with The Weeknd is shady as hell. The fact that The Weeknd broke up with Selena Gomez over the phone gets an honorable mention here, as does the fact that he's been hanging out with Bella Hadid since the breakup. But hanging out is not the same as getting back together, which Gomez and Bieber very much seem to be. Very happy you and The Biebs are giving your love another shot, Selena, but this was still shady.
3. Katy Perry's "Swish Swish."
This was hardly any shade at all, if you ask me, but it still counts. Taylor Swift and Katy Perry's five-year feud still hasn't come to an end, despite Perry spending a lot of time in interviews in 2017 saying she's ready to bury the hatchet with Swift. When "Swish Swish" first came out, fans immediately thought the lyrics were taking aim at Taylor Swift. And with Nicki Minaj being featured on it, that seemed even more likely, as Minaj had beef with Swift in the past as well. (It was publicly resolved when they performed together at the VMAs, but it still existed.)
People expected the "Swish Swish" music video to be Perry's "Bad Blood," but it was more of a big "whatever" to Taylor Swift than anything. She made fun of herself throughout most of the video, seemingly trying to say their entire feud was pointless. But to me, the music video was more of a "Oh, people didn't react well to me calling Swift out in these lyrics, so I'm going to make the video more lighthearted" kind of thing. This act of shade makes it onto the list, even though Perry seemingly tried to backtrack out of it.
I miss the old JAY-Z and Kanye. The Watch The Throne JAY-Z and Kanye. The jumping up and down in the audience of the VMAs following Beyoncé's pregnancy announcement JAY-Z and Kanye. But it doesn't seem like we're going to get that bromance back anytime soon. They've got some serious work to do if they're ever going to mend this feud between them that has apparently resulted in JAY-Z and Kanye's kids never having met each other.
Whatever caused the shade, West spent some moments in 2016 during his Saint Pablo Tour calling JAY-Z out for the distance and drama between them. (He want on a spoken rant about his drama with his former mentor just before being hospitalized for a "psychotic breakdown" in 2016.) Then, in the song "Kill JAY-Z" on his album 4:44, JAY-Z seemingly called out West's "f*ck the world" attitude in this verse:
I know people backstab you, I feel bad too. But this 'f*ck everybody' attitude ain't natural. But you ain't the same, this ain't KumbaYe. But you got hurt because you did cool by 'Ye. You gave him 20 million without blinkin'. He gave you 20 minutes on stage, f*ck was he thinkin'? 'F*ckin' wrong with everybody?' is what you sayin'. But if everybody's crazy, you're the one that's insane.
Yikes. That "KumbaYe" line makes it hard to believe JAY-Z is chastising himself like he is throughout the rest of the song, so we're going to go ahead and put this in the middle of this list because while the lyrics are shady toward Kanye West, they're ultimately imploring him to be better and evolve. Well-intentioned shade is OK in some instances. I will allow it.
5. Fifth Harmony throwing a metaphorical Camilla Cabello off the stage during their 2017 VMAs performance.
Let's be real: Camilla Cabello was shady as hell all on her own by leaving Fifth Harmony. It's always shady when a band member leaves the already well-established group, i.e. Justin Timberlake leaving *NSYNC and Zayn Malik leaving One Direction. But Fifth Harmony shot back at Cabello's shade by metaphorically casting her out of the group in their 2017 VMAs performance. They literally had a dancer stand in to represent Cabello, and right as the performance started, that dancer jumped off the back of their stage, symbolizing Cabello's exit from the group. They obviously did this intentionally to show that they don't need Cabello to be successful, which is fair. But it was still one of the shadiest moments of the 2017 VMAs (which was an extremely shady show to begin with). So while Cabello's shade gets an honorable mention, Fifth Harmony's shade was more deliberate, thus landing it on this list.
6. Taylor Swift's "Look What You Made Me Do."
You could write an entire article breaking down all of the shadiest moments in Taylor Swift's "Look What You Made Me Do" music video (we already did). The song and its video, which debuted at the 2017 VMAs, a night we've already established was shady as hell, took the cake for the most shade thrown that night. The entire video is Swift "calling out" all of her very public feuds that she seems to think matter more than, I don't know, the state of American politics, and I will never be here for it. It was Swift's first solo single since 1989 came out 2014. While her fans loved it, calling her "savage," there are plenty of people who believe the "savagery" Swift is displaying in this song and its video are extremely poorly-timed. Now's not the time to be playing 1) the dishonest media angle like she does on the Reputation album cover, and 2) be making entire songs, music videos, and albums that basically say, "Woe is me, my life has been so hard ever since Kim K called me out on Snapchat." Girl, please. Donald Trump is president. I have no time for this.
The "Look What You Made Me Do" lyrics proved Swift was trying to jab back at Kim and Kanye, Katy Perry, and all of the other celebrities she's had feuds with over the last couple of years. (Side note: Who has this many public fights with people?) The "Look What You Made Me Do" lyrics go:
I don't like your little games. Don't like your titled stage. The role you made me play. Of the fool, no, I don't like you. I don't like your perfect crime. How you laugh when you lie. You said the gun was mine. Isn't cool, no, I don't like you.
But I got smarter, I got harder in the nick of time. Honey, I rose up from the dead, I do it all the time. I've got a list of names and yours is in red, underlined. I check it once, then I check it twice, oh!
Ooh, look what you made me do. Look what you made me do. Look what you just made me do, look what you just made me do. Ooh, look what you made me do. Look what you made me do. Look what you just made me do, look what you just made me do.
I don't like your kingdom keys. They once belonged to me. You ask me for a place to sleep. Locked me out and threw a feast (what?). The world goes on, another day, another drama, drama. But not for me, not for me, all I think about is karma. And then the world moves on, but one thing's for sure. Baby, I got mine, but you'll all get yours.
Shady AF.
7. Most of Taylor Swift's Reputation.
If Reputation succeeded at anything, it was in showcasing the mindset of "everything's awful, I might as well give in" that we saw after Trump was elected. Swift, in producing songs throwing shade like "Look What You Made Me Do" and playing the helpless pessimist who can only find solace in private moments like in "Call It What You Want" and "Delicate," gave us a perfect example of someone who has thrown in the towel when it comes to hoping that things will change. But in Swift's case, she's only talking about the drama in her personal life, whereas the general public gave into this sense of hopelessness as a result of the 2016 election. The fact that Swift's Reputation came long after pop culture evolved out of that hopeless mindset and into a collective of people ready to grow up and glo up is telling. It makes Reputation look all the more shadier, which is why it has landed itself as one of the shadiest celebrity moments of 2017.
8. The legitimately criminal shade thrown at Blac Chyna by Rob Kardashian when he posted revenge porn.
Remember when Rob Kardashian literally broke the law by posting illegal revenge porn of Blac Chyna? Yeah, that was sh*tty as hell and deserves to be at the bottom of this long-ass list. After what felt like years of fighting between Kardashian and Chyna, Kardashian lost his temper and posted nude photos of Blac Chyna on his Instagram and Twitter. These photos were previously sent to Kardashian by Chyna, but he posted them without her consent and with clearly malicious intent, aka the definition of illegal revenge porn. Both his Twitter and Instagram accounts were suspended as a result, and Chyna was granted a restraining order against him and reportedly planned on pursuing all legal options. Custody of his daughter, Dream Kardashian, could be up in the air as a result, as well. This was one of the most disgusting moments of 2017 that was already filled with disgusting moments, and I would love to leave it behind in the new year, but I know we're going to hear more about it eventually.
So, fam, now that we've successfully purged all of the toxic energy in our lives, it's time to GLO THE F*CK UP IN 2018.
Check out the entire Gen Why series and other videos on Facebook and the Bustle app across Apple TV, Roku, and Amazon Fire TV.