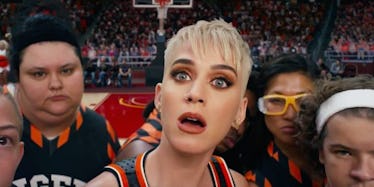 Katy Perry's "Swish Swish" Is Basically A Big "Whatever" To Taylor Swift
YouTube
The "Swish Swish" video is here! Katy Perry's "Swish Swish" music video is a giant sh*t show that Perry uses to poke some fun at herself. Lots of people thought the video would be a direct response to Taylor Swift's "Bad Blood" (which many assume to be about Perry), but there's really no obvious Swift callout in the video. *Giant sigh of relief*. There are some similarities to the "Bad Blood" video, however.
The video features two basketball teams filled with celebrities, and Perry and her teammates are total klutzes throughout. Basically, everything in the "Swish Swish" video is the polar opposite of "Bad Blood." Instead of actresses, singers, and models training to be killer assassins, Perry has a group of famous friends being ridiculous and eventually working together as a team to win the game.
If this is Perry's version of a "Bad Blood" video, then it's basically her saying that videos dedicated to "coming back" at other artists are pretty ridiculous and laughable. Instead of taking the "savage" road Swift took, Perry is effectively brushing it all off with a "whatever, dude, live your life, but it's kind of funny that you did this." Nicki Minaj is also everything in it, so there's that.
The video features stars like Stranger Things' Gaten Matarazzo, Terry Crews, Molly Shannon, Jenna Ushkowitz from Glee, Thor Björnsson who played The Mountain on Game of Thrones, the cast of Netflix's GLOW, YouTuber Christine Sydelko, Queen Nicki Minaj, and more.
Fans are already obsessed with the video, calling it one of Perry's best.
Perry is making fun of herself the entire video by taking a lot of the negative things people say about her and using them as a joke about herself (and also turning herself into excellent memes). It's kind of like what Swift is doing with this whole snake Instagrams thing, but something tell me Swift won't be laughing at herself like Perry is...
Anyway, if you want to consider "Swish Swish" to be Katy Perry's response to "Bad Blood," do you. But she's made it kind of obvious now that she's over all of it. It's kind of like when someone's trying to be intimidating when there's nothing about them that is, so you just laugh at it because it's so entertaining to see them try. Swish swish, bish!