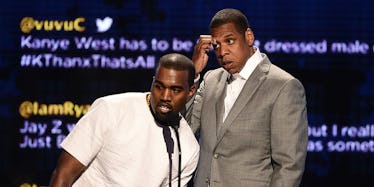 JAY-Z's Diss To Kanye On '4:44' Track Probably Wasn't True
Michael Buckner/Getty Images For BET
We're all still adapting to the new world now that JAY-Z's 13th studio album, 4:44, has arrived.
Since it dropped on Tidal at midnight on June 30, fans have been on an emotional journey taking it all in. On the 10-track album, JAY admits to cheating on Beyoncé, addresses his elevator fight with Solange, and... wait for it... bashes Kanye West.
Maybe we saw two out of the three coming.
Still, fans were all ears when JAY-Z brought up Pablo.
Before West's hospitalization for a "psychotic breakdown" back in 2016, he infamously stopped a concert to go on a long rant. In his tangent, West accused JAY-Z and Beyoncé of not reaching out after wife Kim Kardashian's was robbed in Paris.
Now, JAY-Z included the following lyrics in his song, "Kill Jay Z":
I know people backstab you, I feel bad too / But this 'f*ck everybody' attitude ain't natural / But you ain't the same, this ain't KumbaYe / But you got hurt because you did cool by 'Ye / You gave him 20 million without blinkin' / He gave you 20 minutes on stage, f*ck was he thinkin'?/ 'F*ckin' wrong with everybody?' is what you sayin' / But if everybody's crazy, you're the one that's insane.
Those are some fighting words.
According to TMZ, JAY suggesting he lent West $20 million dollars might not be exactly what went down.
Sources told TMZ the money was actually an advance from Roc Nation to cover expenses for West's Saint Pablo tour.
Additionally, it's pretty standard for this kind of chunk of change to come as an advance. Reports suggest it was likely used for things like production,  staff costs, and West's famous floating stage.
Additionally, Yeezy allegedly left Tidal over a money disagreement and maintains he is owed millions for music video expenses and subscription bonuses.
TMZ also reports JAY has threatened to sue West if he decides to move forward with another streaming service.
Hey, it's not easy being rap kings.