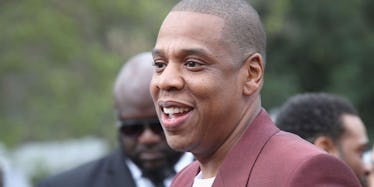 JAY-Z's Album Title Literally Came To Him In His Sleep, So Time To Take A Nap
Ari Perilstein/Getty Images for Roc Nation
Earlier today, we were all blessed with yet ANOTHER gift from the Knowles-Carter family.
JAY-Z dropped his latest album, 4:44, and needless to say, fans are absolutely losing their minds over it. (Will Twitter break? Who knows?)
Thank God JAY is finally back to bless us all with an album that has pretty much everyone staring pensively out a window, wondering, "OK, but what does it all mean?"
According to Hov himself, the title track "4:44" carries some pretty deep meaning with it, and it's also fairly literal.
In an interview, he told iHeartRadio, "'4:44' is a song that I wrote, and it's the crux of the album, just right in the middle of the album. And I woke up, literally, at 4:44 in the morning, 4:44 a.m., to write this song. So, it became the title of the album and everything."
How can JAY-Z come up with a brilliant song — one that literally became the titular track — in his sleep, when I can barely function with a full eight hours?
He continued, "It's the title track because it's such a powerful song, and I just believe one of the best songs I've ever written."
In terms of the actual lyrics, JAY-Z wasn't lying. "4:44" definitely carries preeeeeeetty heavy meaning about the more emotional events in his life, from his alleged affair to the birth of his twins.
The lyrics read as a major apology to Beyoncé for JAY-Z's alleged affair with whom we all know as "Becky with the Good Hair" (LOL, my rhymes are sick. Sign me, JAY.):
Look, I apologize, often womanize Took for my child to be born See through a woman's eyes Took for these natural twins to believe in miracles Took me too long for this song I don't deserve you, I harass you out in Paris "Please come back to Rome" You make it home We talked for hours when you were on tour "Please pick up the phone, pick up the phone"
He also mentions how he now realizes how heavily his actions could've impacted not only his marriage, but his relationship with his children as well:
And if my children knew, I don't even know what I would do If they ain't look at me the same I would prob'ly die with all the shame "You did what with who?" What good is a ménage à trois when you have a soulmate? "You risked that for Blue?"
Given the references in this song, many people are speculating that 4:44 is a response to Beyoncé's album Lemonade. You know, the one where Beyoncé literally buried all of us six feet under with her genius, all while calling out JAY-Z's infidelity and still being a queen about it?
How come when JAY-Z comes up with a song and subsequent album concept in his sleep, he's a "genius" and a "visionary," but when I do it, I'm "lazy" and get told, "That's the stupidest idea I've ever heard, Theresa"?
Oh, well. Can't win 'em all.
Anyway, here's to streaming Hov's new album all day long, and here's to looking out for my new hot album, 2:39 Because That's When I Wake Up To Pee.