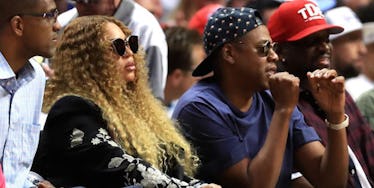 JAY-Z Just Brought Back "Becky" Drama With New Song Off '4:44' Album And You'll Scream
Sean M. Haffey/Getty Images
In his new album, 4:44, JAY-Z did not shy away from talking about the drama Beyoncé brought with her album Lemonade.
In fact, JAY-Z went right ahead and brought "Becky" back to life.
You have to remember Becky. She's the "person" that made everyone across the world just completely lose it once Lemonade premiered in April 2016.
At the end of the epic track "Sorry," Beyoncé sings about leaving her man. And at the very end of the song, she sings, "He only want me when I'm not there / He better call Becky with the good hair."
And with that, the entire world went on a hunt to figure out who "Becky with the good hair" is, deciding that she had to be a real-life person with whom JAY-Z was cheating on Bey.
Rather than pretend that whole thing didn't happen, JAY went for it and brought her up.
In the song "Family Feud," JAY raps a lot about the hip-hop industry in general, specifically noting things like getting crazy rich and, well, feuding within the community.
But, in the third verse, JAY-Z makes his "Becky" reference. The first line of that verse reads,
Yeah, I'll f*ck up a good thing if you let me / Let me alone, Becky / A man that don't take care his family can't be rich
Yup, that happened. JAY just went right out and said that name.
It's a pretty interesting reference to make, and it speaks to a lot of themes of the album. JAY-Z talks a ton about family throughout 4:44, even including the voices of Blue Ivy, his mother Gloria, and Beyoncé herself on "Family Feud."
In these lines, JAY seems to say that "Becky" – who could be anyone, including just any sort of temptation away from loyalty to his family – really was a major issue for him and the rest of the Carters. So that's pretty wild.
Overall, the album is a decently astonishing moment of openness from the legendary rapper. Even if it feels weird to hear him talk about "Becky."