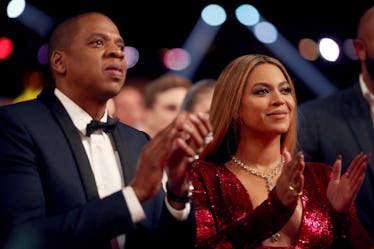 Who Talks In "Smile"? JAY-Z's '4:44' Features A Non-Artist At The End
Getty Images
There is a little-known, but very special guest on JAY-Z's new album, 4:44.
The woman appears on the third track of the playlist, "Smile," and caps the song with a very poignant message. She says,
Living in the shadow Can you imagine what kind of life it is to live? In the shadows people see you as happy and free Because that's what you want them to see
That woman is Gloria Carter, JAY-Z's mother, and the song on which she appears has seemingly served as a means of coming out.
Within the first verse of the song, JAY-Z raps the following lines, revealing her sexuality:
Mama had four kids, but she's a lesbian Had to pretend so long that she's a thespian Had to hide in the closet, so she medicate Society shame and the pain was too much to take.
Though "Smile" is the only track on 4:44 where Carter is featured, she is no rookie when it comes to playing a lyrical role in her son's work.
Carter is most notably featured on "The Black Album," which was released by JAY-Z in 2003. On that particular playlist, Carter played the role of narrator on the track "December 4th."
On that occasion, Carter's commentary mostly centered on her son; his birth, his upbringing, his personality.
On this occasion, however, Carter features on a track that is mostly about her: her life, her sexuality and, it seems, her decision to no longer live in "shadows."
Carter says during her song-ending monologue,
Living in the shadow feels like the safe place to be No harm for them, no harm for me But life is short, and it's time to be free Love who you love, because life isn't guaranteed
Safe to say, those lyrics and her story are sure to make someone smile.