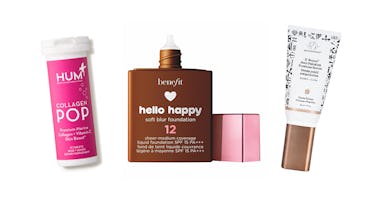 12 New Arrivals At Sephora This Month That'll Revamp Your Beauty Routine For Summer
Sephora
Summer is in the air, but alas, the summer air is humid and hot. Factor in the salt water and chlorine threatening my hair and the UV rays targeting me for premature wrinkles and sun damage, and you could say I'm proceeding with caution when it comes to glamming for the beach. With this in mind, I've been browsing Sephora's new releases with great attention, in search of some must-haves to save my skin and hair from the heat. Luckily, a ton of new beauty products at Sephora fit the bill for what I'm looking for, from SPF-packed formulas and long-lasting finishes to instant bronzing miracles.
Achieving the perfect summer lewk is all about the right combination of haircare, skincare, and makeup products. And once you've nailed the basics, the possibilities are endless. Summer beauty is hardly a limited concept; to some, it means the dewiest, most natural, no-makeup makeup looks possible, and to others, it means a turquoise eye, coral lip, faux-freckle full mermaid glam. Personally, I opt for both, depending on the day's activities. I want fun, flirty, sunset-inspired shades on summer nights out, and hydrated, glowy skin — with sun protection! — if I'm relaxing at the beach or by the pool. Not to mention, a combination of the two is ideal if I feel like taking some beach-y pics for the 'Gram, à la Miss Bella Hadid:
Read on for some top picks for summer beauty, straight from Sephora's New Arrivals section.
This product was — quite literally — designed for summertime skin. The Drunk Elephant D-Bronzi Anti-Pollution Sunshine Serum ($36, sephora.com) helps all skin types look and feel healthier via a combination of bronzy glow and a vitamin-packed formula that works to even out skin tone, reduce fine lines, and protect against pollutants and environmental stressors. Mix a pump into your favorite serums, moisturizers, or sunscreens, and apply anywhere you want to look sun-kissed.
Drinking lots of water helps skin look amazing, regardless of hot temperatures, and throwing a HUM Nutrition Collagen Pop ($12, sephora.com) tablet into your glass can amp up skin benefits even more. The instantly-dissolvable tablets contain premium marine collagen peptides, as well as vitamin C, which means you can sip your way to hydrated, firmer, and plumper skin. Plus, the lemon and rose taste is super refreshing!
Cacti are basically hydration goddesses — they live in some of the driest areas in the world, yet always manage to avoid dehydration. When plant-friendly brand Boscia announced their Cactus Water Moisturizer ($38, sephora.com) to save skin from looking parched, it just made sense. The ultra-hydrating and replenishing formula features Queen of the Night Cactus as a main ingredient, so you can look like Queen of the Glowy, Well-Moisturized Skin. You feel me?
Once your skin is looking plump and hydrated thanks to the above, it's only right to add a little highlighter for good measure! Stila's Heaven's Dew All Over Glimmer ($25, sephora.com) is the ultimate pick for summer 2018. The cream-powder formula is easy to apply in seconds, and it stays on all day without feeling sticky or tacky. The silvery shimmer finish is an updated, glam take on the mermaid trend, with all the glistening shine and none of the chunky glitter. Even on no-makeup makeup days, you'll catch me tapping this gem onto the high points of my face for a ~natural~ radiant glow.
I know it's tempting to blow your life's savings on skincare, but save some coins for your hair, too! In particular, the IGK Blocked Water-Resistant Hair Shield ($25, sephora.com) is a must for summer. Good for all hair types, this product is basically meant to act as waterproof mascara for the hair. To avoid damage or color fading, slather this on before styling to keep hair safe from the harmful aspects of your beach day environment, including water, sweat, chlorine, UV rays, and wind. As a bonus, it's also perfect for nailing that slicked-back, super-cool, wet-look hairstyle celebs love.
Toss out any lip glosses formerly living in your beach bag, because the Marc Jacobs Beauty Enamored Hydrating Lip Gloss Stick ($28, sephora.com) is your new go-to. It looks like a traditional lipstick bullet, applies like a comfortable, hydrating balm, and shines like a shiny, shimmery gloss. I'm sorry, but is that not the lip product trifecta? I sure think so. Shades like "P(r)each," a vibrant apricot, and "Sweet Escape," a pink lemonade, are must-haves for poolside application.
Does the thought of slathering on oily, greasy sunscreen lotions make you cringe? Fear not! The Tarte Tarteguard Mineral Powder Sunscreen ($28, sephora.com) ensures a girl can get her SPF without looking like an oil slick in the process. This SPF 30 is formulated as a powder you can brush on with ease — you can even swipe it on over makeup without messing up your glam.
Kudos to you for protecting your skin with that Tarte sunscreen, but I don't blame you if you're a little bummed to be missing out on a tanned face. Again, fear not! The St. Tropez Self Tan Purity Bronzing Water Face Mist ($30, sephora.com) can help you fake sun-kissed skin with ease. The new transparent formula can be sprayed under or over your makeup and will produce a bronzy tan gradually over the next several hours. No sun damage necessary.
What's that? You don't have hours to wait? Not a problem! Pick up the Benefit Hello Happy Soft Blur Foundation ($29, sephora.com) in a shade that suits your desired tan. This foundation looks and feels like a tinted moisturizer thanks to a natural finish and SPF 15, but the blurring agents still give skin a perfected finish. The lightweight formula can also be built up for more coverage, should you decide to head from the pool straight to a party.
Now that we've covered the beachy basics, allow me to introduce you to the Violet Voss Flamingo PRO Eyeshadow Palette ($45, sephora.com), also known as "The Only Palette You Need To Look Amazing This Summer." OK, that's not an official title, but it might as well be. Pigmented shimmer toppers like shades "Flip Flops" and "Pineapple" are the perfect radiant washes of color, and vibrant, tropical mattes like "Oceanfront," "Beach Ball," and "Popsicle" are sure to make a statement.
Full disclosure: Your girl has next to no eyebrows, so skipping brow makeup at the beach isn't really an option for me. Rather than going full-out with a pomade, shadow, or pencil, I'll be opting for a quick swipe of the Milk Makeup KUSH Fiber Brow Gel ($18, sephora.com) to give me all the color, definition, and hold I need. Plus, the CBD-infused formula prevents the product from getting flaky or stiff as the day goes on, so no one will know your brows got a little extra help on a no-makeup day. Your secret is safe with me, and hopefully vice-versa.
Now that you've added most of the above to your cart, it's time to lock it all in with a setting spray that seals the deal! The Cover FX High Performance Setting Spray ($31, sephora.com) allows for 24-hour makeup longevity and pollutant protection, so you won't have to worry about the sun causing your makeup to slip and slide off your face. Plus, a light mist can be oh-so-refreshing when you're sweating in the heat!