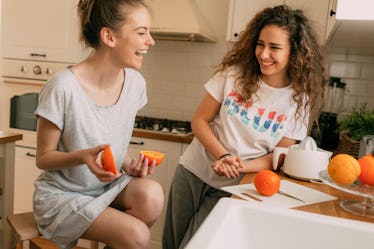 If Your Skin Is Always Super Dry, Here's What Could Be Missing From Your Diet
Before knowing what's what in the wellness space was my job, meeting my nutrient quota for the day heavily relied on gummy vitamins that were more or less the equivalent of sugar-packed artificial fruity bears and worms. Of course, I got a decent amount of nutrients naturally from the foods I was eating, but once college rolled around, my diet wasn't exactly well-rounded, and, trust me, when you're living off pizza and hot pockets, the subtle signs you need more vitamin C, D, K, and the like are going to show. Take it from someone who ignored their parents' warning for years, my friend: Taking your vitamins matters, and I, personally, am just starting to see the light.
If you were to have me prepare all your meals for one day, you'd never believe that up until senior year of college I was probably one of the pickiest eaters on planet Earth. Nowadays, my fridge is packed with fresh produce, my kitchen cabinets are stocked with plant-based proteins, and I'm almost hyper aware of what's going into my body in terms of nutrients. I'll admit, once upon a time, I knew what vitamins were, sure, but I didn't really know a) what the most important ones were and b) the benefits they offered my body and mind.
Vitamin C is definitely one of those key nutrients you want to make sure you're getting enough of on the daily. According to Mayo Clinic, vitamin C is an ascorbic acid found in citrus fruits and green veggies, as well as a natural antioxidant. Its primary function is to heal and protect your body from free radicals, on top of forming your "blood vessels, cartilage, muscle, and collagen in bones." That's a big job for one little vitamin, and if you're not getting enough of it, you may not realize it off the bat, but your body will feel the effects of a deficiency.
So now you might be wondering how much vitamin C should you be squeezing in? Well, per the National Institutes of Health Office of Dietary Supplements, the Food and Nutrition Board (FNB) recommends women aged 19 years and older should be tallying in 75 mg of vitamin C per day. I know it doesn't sound like a lot, but it can be difficult to reach if you aren't paying attention or don't eat enough fresh produce.
Vitamin C can be found in fruits like oranges, and kiwi, and veggies like brussel sprouts and cauliflower, but if you know for a fact there are going to be days when healthy foods aren't available, you can supplement with powders and pills. Talk to your doctor about what route is right for you, but first, here's how you can identify whether or not you might be severely lacking in vitamin C.