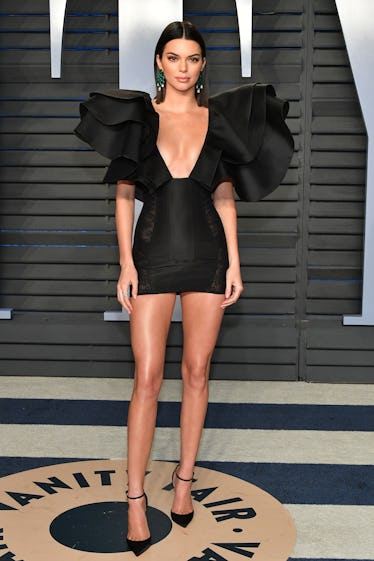 This Treatment May Have Been The Cause Of Kendall Jenner's Reported Hospitalization
Dia Dipasupil/Getty Images Entertainment/Getty Images
Over the weekend, just before she attended Vanity Fair's Oscars After-Party, Kendall Jenner reportedly checked into Cedars-Sinai Medical Center in Beverly Hills to get treatment for a bad reaction to a vitamin IV drip, according to People. Elite Daily has reached out to Jenner's team for comment on this story, but did not hear back before publication. Now, this information probably has you wondering two things: First, is a vitamin drip safe (also, like, what even is that?), and secondly, how the hell did Jenner look that good in that little black dress after reportedly being hospitalized earlier in the day?
Although photos taken later on show that she eventually made it to the Vanity Fair party, sources close to Jenner told The Blast that the 22-year-old model apparently had a "bad reaction to a vitamin drip" that forced her to reportedly make a quick pit stop at the hospital before heading to the party.
For those of us who don't partake in vitamin drips and Oscar parties as our Sunday leisure activities, a vitamin drip is a saline mixture made up of water and some combination of vitamins and minerals, typically including vitamins C and B12, according to Refinery29.
Although it's unclear what specific vitamin drip Jenner may have received (if she even received one at all), one of the more common types of infusions is the "Myers' Cocktail," which contains magnesium, calcium, vitamin C, and B vitamins, according to a 2002 study on the treatment, which was published in the journal Alternative Medicine Review.
Vitamin drips appear to be used to combat so many different types of symptoms, that it almost seems like they're a renaissance treatment of sorts. According to the Alternative Medicine Review research, the Myers' Cocktail "has been found to be effective against acute asthma attacks, migraines, fatigue (including chronic fatigue syndrome), fibromyalgia, acute muscle spasm, upper respiratory tract infections, chronic sinusitis, seasonal allergic rhinitis, cardiovascular disease, and other disorders." So, it seems pretty simple, right? A quick IV, and you're good to go?
Well, naturally, a vitamin infusion doesn't come cheap.
For example, the NYC-based service NutriDrip offers a bunch of different vitamin infusions, all of which cost around $200 to $300 a pop. But there are some companies working to decrease the cost, with options like monthly IV drips at locations similar to a dry bar — except, you know, you're getting an IV drip put in, instead of getting a blowout. Hydrate IV Bar, for instance, offers a monthly IV drip for just $69, in which you're allowed to "BYOIV," aka "build your own IV." In other words, you can choose from an array of vitamins and minerals to put into your IV, depending on what your symptoms are.
Although a vitamin drip could have the aforementioned health benefits, some doctors suggest you're likely better off opting for a standard multivitamin pill, rather than getting your vitamins intravenously. Dr. David Katz, director of the Prevention Research Center at Yale University School of Medicine, told Live Science that humans are meant to get nutrients through the GI tract, and "absent a clear and compelling reason to do otherwise, that is how we should get them."
If you're considering getting a vitamin IV drip of your own, you should talk to a medical professional before taking the plunge.
Even though vitamin drips are a relatively common practice, especially among the rich and the famous, it's always good to get a professional opinion before engaging in any sort of medical treatment.
Since a vitamin drip is intravenous, your experience will probably be dependent, at least partially, upon how willing you are to deal with a needle. As someone who routinely passes out every time she gives blood, I would far prefer to pop a daily vitamin pill (or to hydrate the normal way, by drinking good old-fashioned water) and opt out of any sort of intravenous beauty treatment — but that's just me.