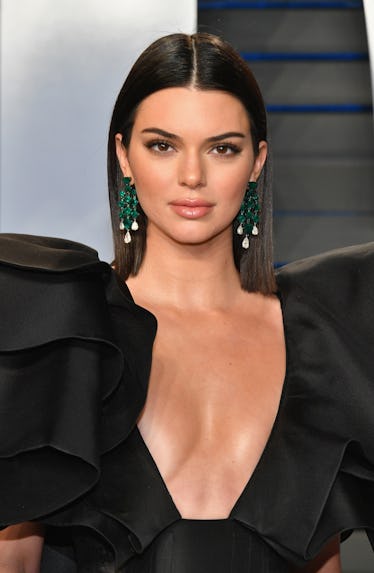 Kendall Jenner Was Reportedly Hospitalized Before The Oscars After-Party
Dia Dipasupil/Getty Images Entertainment/Getty Images
I'm sending positive vibes out to Kendall Jenner, who doesn't seem to be having the best week. According to People, it looks like Kendall Jenner was hospitalized before her red carpet debut at Vanity Fair's Oscars After-Party on Sunday, March 4, after suffering from a bad reaction to a vitamin IV drip.
A source told The Blast that Jenner was "checked into Cedars-Sinai in Beverly Hills and was treated for the reaction to the vitamin infusion." She was reportedly "released a short time later."
Vitamin IV drops have gained popularity in recent years for those prepping for the red carpet. According to the Drip Doctors website, the "IV Vitamin Therapy helps jumpstart muscle and stress recovery with a concentration of nutrients directly into your bloodstream."
Fortunately, it seems that Jenner recovered quickly from her reaction to the drip, and was still able to slay on the red carpet, looking like a damn dream in a LBD and emerald earrings. I find it incredible that she was hospitalized shortly before looking so gorgeous.
Many wondered if they'd see Jenner make an appearance at the event because recently the model has been absent from New York Fashion Week. According to People, a source has said that "there's no real reason" why she's been laying low, and that "she had other working commitments this year."
Well, I for one can say that I'm thankful we saw her looking happy (and healthy) after being hospitalized, and the photos of her at the Oscars After-Party totally prove it:
Can you believe that someone who looks so gorgeous was in the hospital shortly before crushing it on the red carpet? Let's give credit where credit is due.
Sadly, Jenner has faced other health issues recently, from speaking openly about her struggle with anxiety to dealing with sleep paralysis, two very scary, stressful things for someone who's always in the public spotlight.
On Keeping Up With The Kardashians, Kendall talked about the challenges she faced recently, which might have had a part her anxiety. She said,
There's a lot that happened this past year, starting with like, Kim's robbery ... Then I got robbed, and I had my stalkers. That's why I don't really like going out anymore. That's why I don't tweet, that's why I don't Instagram. That gives me anxiety, too. I swear, it's the craziest thing.
I can't even imagine how much stress those kind of issues could add to a person's life.
In an interview for Harper's Bazaar, Kendall is interviewed by BFF Cara Delevingne and is asked what keeps her up at night. She responded,
It's funny you ask that because I have such debilitating anxiety because of everything going on that I literally wake up in the middle of the night with full-on panic attacks. Where do I even start? Everything is so horrible, it's hard to name one thing. I just think that the world needs so much love. I wish I had the power to send Cupid around the planet, as cheesy as that sounds. You go online and you see everyone saying the worst things to each other, and it's hard to stay positive. It's hard not to get eaten alive by all the negativity.
Seriously giving Kendall so much credit right now.
Still, Kendall manages to come out on top and shine optimism whenever she can. Proving that point, when she attended the Golden Globes on Sunday, Jan. 7, she looked absolutely stunning, and decided to clap back at the haters when they shamed her for having pimples (you know, like everyone else in the world has). A fan came to Jenner's defense and tweeted, "Ok but @KendallJenner showing up and strutting her acne while looking like a gorgeous star is what every girl needs to understand." Jenner then quoted her tweet and responded, "Never let that sh*t stop you!"
Can someone get this girl an award please? She stays cool under pressure, relates to her fans on many levels, and manages to stay positive no matter what she's going through.
Kendall, I'm so glad that you were well enough to attend the Oscars After-Party despite your health issues. You seriously amaze us all.