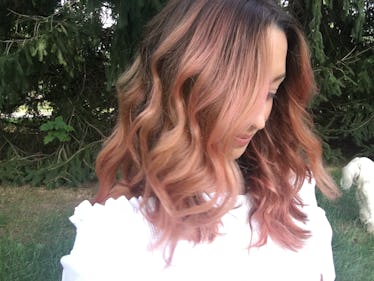 Dusty Rose Hair is Instagram's Latest Hair Trend & I Even Tried It Out For Myself
Bella Gerard
Millennial pink? Sorry, I don't know her anymore. The latest pinky shade on the rise is a hue dubbed "dusty rose." The muted shade is chic and sophisticated, and I'm completely obsessed — like, so obsessed that I even gave dusty rose hair a go on my own strands. It turns out, I'm not the only one enamored with the look, as the shade is quickly becoming this summer's trendiest hair color, and I've yet to see an "After" hair shot that doesn't look incredible.
As someone who most definitely went through her pop-punk teeny bopper phase a few years ago, I've had my fair share of experiences with bright, colorful hair, and as a result, neon magenta and pastel pink no longer excite me. Something about dusty rose feels unique and fresh — like it's the ultimate mature, ladylike take on a cool-girl color. It's also super wearable and suits blondes, brunettes, and every shade in between, which is rare. Before I launch into my own dusty rose hair journey, feast your eyes on some gorgeous inspiration via the myriad of Instagram pictures I've bookmarked featuring this hair color. But be warned: The following pics will most definitely have you itching to grab some hair dye.
Behold, dusty rose:
Like with most pink hair trends, there aren't strict rules for achieving a dusty rose shade. It's definitely more subdued than traditional rose gold, but can shift lighter or deeper depending on factors like how fresh the dye job is, how bleached the hair was before applying the dye, and if you're going for an ombré look, how light or dark the root shade blending into the rose color will be.
Dusty rose can also be slightly altered to suit your undertones, making it super wearable for everyone. "There's so many different shades of rose that it's easy to match the best shade for each individual client," says Michelle Gonzalez, a stylist who specializes in hair-painting at Mimi's Salon in Belmar, New Jersey.
When dye is applied via the hairpainting process, a darker base can deepen up a dusty rose shade, like so:
If hair is dramatically bleached, a dusty rose may appear slightly more vibrant, and even can fade to a warmer-toned rose, but should never come off as orange.
The key to ensuring the color still qualifies as "dusty" is to pick a pink that can be warm without coming off too vibrant or too orange. Picture what pink hair would look like if humans were able to grow it naturally.
"Muted and dusty rose colors are more subtle and wearable than neon pinks because they're more of an everyday look, and almost look more 'natural' in a way," says Gonzalez. "They're not too loud, so people who are nervous about putting fantasy colors in their hair are able to do something 'cool' and different without doing something super drastic."
Gonzalez totally hit the nail on the (dusty rose) head. It's a color that manages to gives off a natural vibe, while still being the very unnatural shade that is pink. Color me impressed. Literally.
"It's also good for a client for longevity in the summer," Gonzalez adds, "because the sun brings out warmth in the hair naturally, and that just helps even more to bring out the warm tones that are in rose gold."
Chic Instagrammers aren't the only ones loving this trend, either. It's a low-key celebrity favorite, too.
When I saw my girl crush, model Iskra Lawrence, rocking a full head of dusty rose hair, I nearly lost my cool.
Iskra went full-on dusty rose with no transition shade at her roots, which really made her color pop.
Don't forget Hailey Baldwin's dusty pink Met Gala lob!
Apparently, Busy Philipps dyed her hair dusty rose by complete accident.
After just one day, she admitted on her Instagram Stories that the shade was already growing on her (not surprising, considering she's rocking it).
What first attracted me to this trend was that it felt both fun and wearable. I had finally found a color that could rack in Instagram likes and still be office appropriate! When I tried the color myself, my naturally almost-black hair was already bleached about midway down, thanks to a previous trip to Gonzalez. It was far from platinum — more of a light gold — but still bright enough to work with the colorful dye.
To get the above color, I used the L'Oréal Colorista Semi Permanent Hair Color ( $11, lorealparisusa.com) in shades 300 Soft Pink and 100 Peach. I opted for these over 200 Pink and Hot Pink to prevent the color from getting too bubblegum, and I relied on my not-pure-white base to tone the dye down and add in the "dusty" element. A quick 30 minutes after bribing my sister to slather the dye onto my hair, the transformation was complete, and I proceeded to have a full photoshoot with my dog, Poppy, who is a major dusty rose fan.
Because I mixed in the peach, my dusty rose was definitely warmer-toned, but my dark base kept it from being a true rose gold. Mission accomplished. To keep the color lasting longer, I made sure to use the right products. I washed my hair less, so it wouldn't be quick to fade, and I doubled down on Playa Pure Dry Shampoo ($26, playabeauty.com) to keep my roots from getting greasy between washes. When I did wash, I used dye-safe products like the Color Wow Color Security Conditioner ($23, colorwowhair.com). Of course, if you're unsure about your own skills with your hair, you should probably consider leaving this dye job up to the professionals just to be safe.
Since I used semi-permanent dye, the results didn't last long, but I was a cool Instagram girl while it lasted, and it's a shade I'd definitely revisit. I was surprised that it felt as natural and wearable as Gonzalez and others had told me it would. Even my boss admitted it was a cool shade without being too over-the-top for the cubicle life. Score!
If summer usually causes you to crave a change in your look, dusty rose hair might be your next great impulse hair decision. Viva la dusty rose!