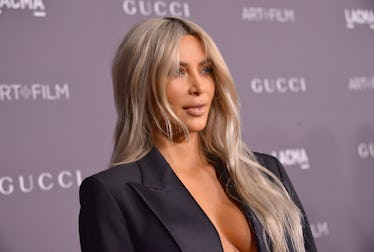 Kim Kardashian Revealed How She Faded Her Pink Hair & The Process Is Simple
Charley Gallay/Getty Images Entertainment/Getty Images
Sometimes a fresh start begins with dying your hair. Whether you're starting a new job, moving to a different city, or ending a relationship, changing your hair color — a basic part of your identity — can truly help you feel like you're moving on from one life experience to another. But if you end up dying your hair and it's not completely working out for you, Kim Kardashian's pink hair removal hack can get that new, unwanted coloring out in about 20 minutes.
In the early '00s, it was a total dream of mine to one day eventually have pink hair. Although I never ended up actually fulfilling that dream, Kim K did, and I vicariously lived through that major beauty transformation as if it were my own. But on Friday, March 16, Kardashian West posted a photo of herself on Instagram explaining that she's no longer sporting the bright pink hair we've come to know and love. To get the dye out, she ended up using the age-old trick (which I honestly thought was a myth): vitamin C. Her caption straightforwardly reads: "Hair Hack- I crushed up vitamin C and mixed it with shampoo to get the pink color out. Full deets on my app."
Since I obviously want all of the deets, I ended up downloading her app... and as expected, it's pretty fabulous. In the post titled, "The Trick I Use To Tone My Pink Hair," Kim K explained that she had been planning on fading her pink hair from bright pink to baby pink. In order to do so, she crushed up acidic vitamin C tablets, and then added the powder to her shampoo. After letting it sit for 20 minutes, she rinsed her hair, and voila. Although she was hoping for the blonde hair she previously had, it came out super light pink (baby pink), and she's all about it. I'm honestly surprised that vitamin C actually works, but I digress. Kim K's faded pink hair is totally working for her.
Even though Kardashian West's bright pink hair looked so cute, she is totally rocking that baby pink hair. It's pretty subtle, but it's also adorable — and honestly, it's classy AF. While it isn't the blonde color she was initially going for, I think it's better than ever. This trick probably would have worked wonders for me when I dyed my hair red back in my angsty high school days, but oh well. But I guess that phase was a learning experience... kind of. It's definitely easy, so I'll probably end up doing it for any future hair dying mistakes.
Although Kim K might use this beauty hack again someday in the future, there's one routine she said she would never, ever, try again — not in a million years. On her blog, Kim wrote about the time she got a vampire facial, titling the post, "The skincare treatment I'll never do again." In case you have no idea what a vampire facial is, it actually involves smearing your own blood on your face to promote healthy skin cell activity. In the blog post, Kim explains that she wasn't able to use any numbing creams or pain killers due to her pregnancy, and that it was excruciatingly painful. And as someone who hates needles... yikes.
I would trust Kim K with a lot of things, and if it has anything to do with beauty — specifically hair — I feel like she has my back. If she says that using vitamin C actually works to extract hair dye, I will 100 percent follow her lead. And I mean, look at her... it clearly did wonders. Kim K's new baby pink color looks chic and stylish — and in all honesty, she's kind of inspiring me to follow my lifelong pink-haired childhood dream.