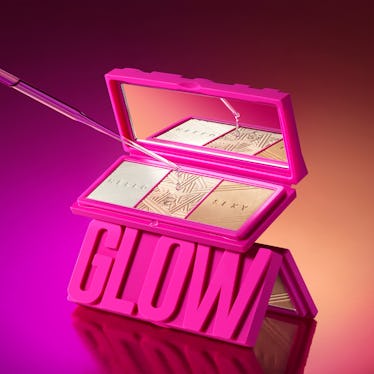 If You Love A Dewy Shine, Then GlamGlow's New GlowPowder Glow Palette Has Got You Covered
GlamGlow
Ah, GlamGlow. I'll never forget the first time I used its SuperMud Clearing Treatment mask. I got a sample from Sephora, and my skin immediately looked clearer, tighter, and refreshed after I washed it off. Needless to say, I've been hooked on its products ever since. And now that the brand has released its first-ever makeup product, I'm dying to get my hands on GlamGlow's New GlowPowder Glow Palette.
As the beauty giant's first set of highlighters, this palette offers three shades that come in "Pearl Glow," "Nude Glow," and "Sun Glow." If those names sound familiar to you, it's because they're the same tones as GlamGlow's GlowStarter moisturizers. That said, the highlighting trio's formula is made with some ingredients that are great for your skin. From hyaluronic acid, which will leave your skin feeling moisturized and give you a dewy look, to Brazilian Golden Clay, which promotes collagen formation, to GlamGlow's Teaoxi Vitalflower Complex, which diffuses light, diminishes imperfections, and smooths the skin, this product is sure to make you glow-up — literally.
As a pro-tip, GlamGlow recommends using the new palette along with its GlowStarter Mega Illuminating Moisturizer and GlowSetter Makeup Setting Spray if you're looking for the ultimate summer glow for your face. But, it also mentioned in a statement that the product is quite versatile and can be used to enhance other areas of the body as well.
The brand says using the "Pearl Glow" shade from the palette on the high points of your collarbones, while contrasting with "Sun Glow" on the low points, will enhance the neckline, if that's one of your favorite features.
While the highlight palette may be the brand's first official makeup product, GlamGlow has also been offering lip treatments for some time now — and they're currently all on sale at GlamGlow.com.
Now, whether you prefer a metallic, matte, or glossy finish, all of GlamGlow's Plumprageous lip glosses are currently on sale for just $9, down from their original price of $19 a pop. The metallic looks are available in two shades — "Lusty" and "Suggestive" — while a matte is available in five — "Body Double," "Unsolicited," "Psycho," "Clear," and "Stacked." A glossy finish is available in four shades: "A-list," "Triple-X," "Screen Kiss," and "Clear." Since these glosses all use a plumping formula, be sure that's the look you're going for before you make the purchase. And if it's your first time using this type of product, be prepared for a potentially intense tingling sensation upon application.
If you're just looking for a moisturizing balm with a hint of color, then PoutMud Wet Lip Balm Treatment may be your best bet. Also currently offered at $9, down from its original price of $19, these lip balms promise to give users "instantly softer, hydrated, and restored lips." And with a formula infused with sweet almond oil, cocoa butter, shea butter, and a perfect five-star rating, it seems like it does just that. The balm is currently available in seven shades: "Birthday Suit," "Clear," "Love Scene," "Sugar Plum," "Kiss & Tell," "Starlet," and "#HelloSexy." So I'm sure there's a shade that's just right for you.
With summer officially here, GlamGlow is the perfect one-stop shop for your skincare, and now, makeup needs if you're planning to rock a natural-looking, fresh, dewy shine this season. The brand also makes taking care of your skin fun, releasing everything from space-themed face wash to My Little Pony glitter masks. And with the release of the magical brand's latest GlowPowder Hyaluronic Acid-Infused Glow Palette, I'm sure this product will not disappoint.