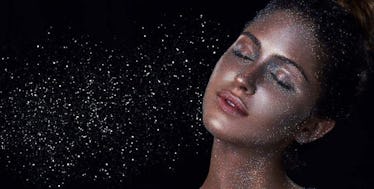 Astrology Lovers Are Going To Freak Over GlamGlow's New Space-Themed Face Wash
Courtesy of GlamGlow
After the total solar eclipse of August 2017, you could say the universe is having a moment. From astronomy to astrology, people are actively seeking out and sharing their interest in space, and the cosmos haven't felt as cool since 1969. Since hip beauty purveyor GlamGlow is never one to miss a trend, the company is seizing this stellar opportunity to launch the future of skincare. Meet GlamGlow's Galacticcleanse face wash ($36; glamglow.com). Needless to say, the internet is already awash with users wondering how the cleanser affects their zodiac sign.
What makes Galacticcleanse so out of this world? It's spiked with sparkling meteorite powder and Moonflower oil. (It's OK, I've never heard of those ingredients, either.) While it's seductive to hope that Moonflower oil is harvested from blooms sprouted on the moon, Google says that's plain wrong. It's actually a fragrant oil derived from an especially finicky flower that only blooms at night — who can't appreciate that struggle? According to public relations for the brand, the meteorite powder really comes from "the galaxy" and "falls in random places, often the desert." So when you blast away dirt, oil, and makeup from your complexion with this cleanser, you're actually sudsing up with space dust. As Zenon Kar (who actually lived in outer space) would probably still say, zetus lapeteus.
Pegged as a "jelly balm" that transforms into a "cleansing milk" when mixed with water, the face wash does rely on a cocktail of trendy standbys, including purifying bamboo charcoal, hydrating glycerin, and nourishing sunflower seed oil. These ingredients secure its status as a creamy, hydrating cleanser capable of purging your pores and removing your makeup. But real truth, it's the black base brimming with silver shimmer that makes me want to smear it all over my face and take a selfie. Such celestial beauty.
Because the shimmery meteorite particles are so fine, they will jettison down the drain when you rinse, imparting a subtle glow but not leaving your face shining like a solar flair. So for the question on everyone's brains: Does washing your face with meteorite powder from the desert really have any cosmetic — or cosmic — benefits? Elite Daily reached out to astrophysicist Neil deGrasse Tyson and resident astrologist Rosebud Baker, respectively, for comment. Until then, it's up to the stars.