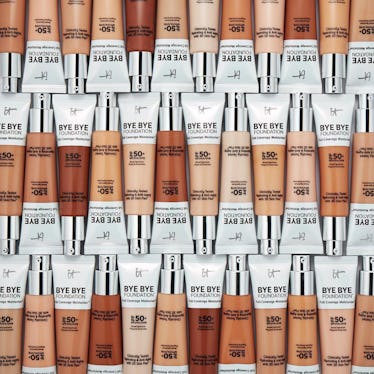 This Full-Coverage Tinted Moisturizer May Convince You To Drop Foundation — For Good
It Cosmetics
Foundation used to be the default base layer of makeup, but not anymore. Between BB cream, cover drops, and every iteration in between, it can be difficult to know which formula suits you. As for the tinted moisturizer versus foundation debate? Well, friends, the deliberation is over, because now you don't have to choose. IT Cosmetics Bye Bye Foundation Full Coverage Moisturizer does it all.
Foundation is in the name of this heavenly product, but it's actually a tinted moisturizer that gives legit coverage. If you have dry skin, traditional foundation may not do enough to keep your skin hydrated. Tinted moisturizer is generally a good solution for that, but then it doesn't provide enough coverage. I have dry skin, constant under-eye circles, and facial Keratosis Pilaris — a buildup of keratin in my skin that blocks hair follicles and causes redness and bumps. Glamorous, right? I don't wear makeup every day (my Sundays are almost always makeup-free) and I'm all about embracing your flaws, but when I do put on makeup, I need something that keeps my face hydrated and blurs blemishes without weighing me down.
I can't even tell you how excited I am about IT Cosmetics' new Bye Bye Foundation Full Coverage Moisturizer; I've been waiting a while for this face-saving grace. Behold.
IT Cosmetics first announced the product on Instagram, illustrating the magnitude of coverage and how it adapts to a spectrum of skin colors.
Bye Bye Foundation is the first-ever full coverage moisturizer from IT Cosmetics! It's a skincare product, infused with 7 key fermented ingredients plus SPF 50 physical-only sunscreen and full coverage pigments. It's a moisturizer that will transform the look of your skin whether you deal with sensitive skin, dark spots, visible pores, breakouts, redness and more. It's a moisturizer unlike anything that exists."
The tinted moisturizer is currently available in 12 shades, because the brand explains that the physical-blocking sunscreen (SPF 50+) in the moisturizer poses unique challenges for creating a large variety of shades. What is physical sunscreen, you ask? It sits atop the skin and acts as a physical barrier for the sun and its harmful rays, as opposed to chemical sunscreen which diffuses rays and can cause irritation on sensitive skin. An inclusive line of cosmetics is a top concern for the brand, though, and IT Cosmetics says, "Expanding our shade range is a top priority and we are working on it!"
Beauty bloggers are huge fans of the full coverage moisturizer. "[It] will improve skin concerns like redness, dark spots, lines and more. Has a UVA/UVB SPF 50+. Contains what they call 3D Skin Technology so the formula is flexible," wrote blogger CyebeleSays about all the amazing benefits. Sounds like the complete package.
"IT's your skintone-adapting full coverage — ideal for even the most sensitive skin! Experience the most clinically advanced formula at your local @ultabeauty! #itcosmetics," wrote the brand. Within the 12 shade range, you can see how many different tones the tinted moisturizer adapts to cover. It's gentle enough for sensitive skin and cruelty-free, so it's a win-win for discerning beauty junkies.
IT Cosmetics Bye Bye Foundation Full Coverage Moisturizer
($40; it Cosmetics)
The tinted moisturizer will run you about $40 — which is already a fair price for a serious SPF product —but when you remember that it's the last foundation-like product that you'll ever need to buy or use, it's an even more amazing deal.
IT Cosmetics Heavenly Luxe Bye Bye Foundation Brush #22
($48; it Cosmetics)
Bonus: the corresponding brush boasts a unique triangular head that reaches into all those nooks and crannies, so when they say full coverage, they really mean it.
The only thing that could make the IT Cosmetics Bye Bye Collection better? If they had just indulged all of '90s babies/N*SYNC super-fans and named it the "Bye, Bye, Bye" collection.