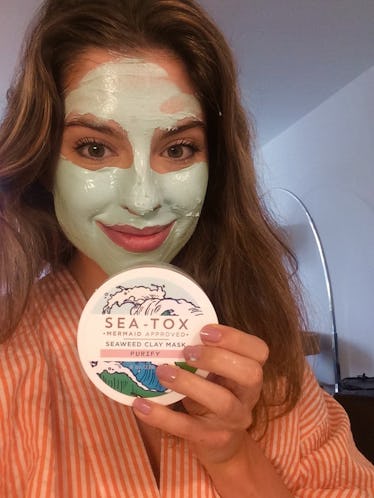 Bath & Body Works Has A New Mermaid Line & It'll Transform You Into A Sea-lebrity
Sophie Wirt
When I was younger, I'd pretend to be a mermaid upon plunging into any body of water — and I know I'm not the only one who wondered what it would be like to be BFFs with Ariel. If you can relate (and still kinda wish you were a mermaid, TBH), this Bath & Body Works Sea-Tox Mermaid Review may just bring you a little bit closer to getting your sea legs. The brand new line (aptly-named Sea-Tox) not only sounds cute, but it'll also add a splash of adorableness to your bathroom.
The 13-piece collection offers an assortment of products ranging from sheet masks to body wash to hair care — so you can ensure you're covered from head to tail. Best of all, every product is priced under $17.
I've been sampling the entire collection as of late, and I can honestly say that my inner mermaid is a huge fan. All of the products exude a fresh, aquatic scent that's practically impossible to dislike. And did I mention that everything is ridiculously cute!? But these products are more than just pretty packaging: they're also formulated with skin-loving ingredients from the sea.
Take the Seaweed Clay Mask ($16.50; bathandbodyworks.com) for instance, which contains pore-purging sea minerals that decongest skin STAT (we're talking 5 minutes!). Upon application, this stuff feels cooling — which makes it extra appealing for the impending heat of the summer. Better yet, the creamy formula can also be used as a body mask. And it should go without saying that its azure hue is totally Insta-worthy.
Another favorite of mine from the line is the Sea Mineral Body Polish ($16.50; bathandbodyworks.com). In addition to its gorgeous rosy shade, this stuff smells like vacation and exfoliates like a dream. The formula has a bit of a choose-your-own-adventure element, too: used alone, it's a satisfyingly gritty scrub that works wonders on dry patches (elbows, feet); used with a loofah, it becomes a gentler, fluffier experience. Either way you use it, a little bit of product goes a long way — which is great if you're planning on using self-tanner throughout the summer.
If you're more of a bather than a shower-er, I highly recommend the Sea Salt Bath Soak ($16.50; bathandbodyworks.com). I'm of the belief that a hot bath can quell any sort of stress, but adding a dash of these bath salts amplifies the calming effect tenfold, thanks to its super soothing scent. Not to mention, this stuff leaves my skin baby-soft, thanks to the calming effect sea salt has on skin. These bath salts always feel like a sigh of relief for my body and mind, and they've become a permanent part of my bathing ritual. Plus, the blush-colored packaging provides some prettiness to look at while you soak.
Admittedly, I had never tried any hair products from Bath and Body works pre-Sea-Tox, but that all changed when I took one look at the new Sea Wave Hair Foam ($16.50; bathandbodyworks.com). Naturally, it's formulated to bestow mermaid-like waves. I expected this stuff to have a mousse consistency, but it actually dispenses as a froth (like actual sea foam, really). I have naturally wavy hair, and this stuff provides just the right amount of texture and hold (medium, not gritty or stiff) to upgrade my tresses from pedestrian to mermaid-level. For this reason, its one of my new air-drying go-tos.
Lastly, I'd be remiss not to mention the Sea Mineral Shimmer Gel ($13.50; bathandbodyworks.com), which simultaneously satisfies my mermaid whims and a nostalgia for the early augts. This body shimmer is an upgrade to the body glitter of the past — the jelly-like formula imparts an iridescence that might actually have people asking whether you're magical. Plus, it contains moisturizing ingredients, so you can feel free to skip your regular lotion on days when you really want to sparkle.
You can snag the entire Sea-Tox collection on Bath &Body Works website and in stores. Happy mermaiding, friends; I'll catch you under the sea!