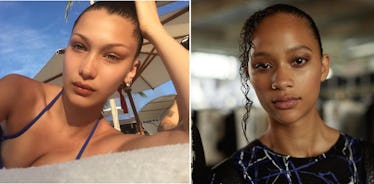 How To Copy That 'Cool Girl' Bun Models Are Doing With Their Wet Hair
Instagram/REX/Shutterstock
The supermodel lineup of the 1990s still stands as the gold standard of the modeling industry. Cindy Crawford, Elle Macpherson and Linda Evangelista left an indelible mark — a beauty mark, if you will.
What if you could distill all that swagger down, and turn it into a single hair style? What would it look like?
If you're master stylist Odile Gilbert, the "American magazine girl" look means a 'do that's fresh and quickly completed. It's so chic you can even wear it to work, assuming your alarm goes off late as often as mine does.
During New York Fashion Week's first day, she led the Kérastase hair team for Thakoon's show, telling press her inspiration was the golden age of supermodels.
The '80s and '90s were the first time the average person saw models doing anything but acting like breathing clothing racks. They exercised, ran around and were even known to take a dip in the ocean.
Finally, even models could get a little messy.
Gilbert explained,
It's about the American beauty, the smooth skin, beautiful girls, wet hair — they do the chignons.
Today, you see the style on models like Bella Hadid.
The stylist's "American girl" bun is the easiest to way to wear your hair wet out of the shower without looking like a total wreck (guilty). Pay attention; your life is about to get easier.
First, dampen the hair or start with locks that've just been washed. Apply a hair cream with hold (Gilbert's team used Kérastase Crème de la Crème) and rake it through with your fingers.
Then, pull all the dampened hair back tightly, checking for bumps. Be sure to leave out one or two face-framing pieces (pretend like you're Amanda Bynes in the early 2000s, basically).
Using bobby pins and hair elastics to secure as you need, twist all that hair into a messy bun, one that's narrow and long rather than fat and wide. Chic girls don't wear ballerina buns. It's not fashion.
Stressed? Just do your best. The messier the style, the better it looks. Give the strands around the face a twirl with your fingers, adding wave and body.
Gilbert suggested the style is a little "come hither," joking in a thick French accent,
In French, we will say, 'Follow me, young men.'
Final touch? Add a shine spray or hair spray to enhance the sleekness of the look. In five minutes, you've gone from "late to work" to "I woke up like this."