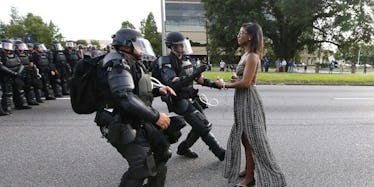 27 Powerful Photos That Perfectly Capture The Emotional Roller Coaster Of 2016
REUTERS
It's safe to say that when historians look back on 2016, it will be described as a tumultuous year in which major changes took place across the world.
Between worldwide terror attacks, police brutality in the US, Brexit, the war in Syria, the global refugee crisis, the deaths of countless influential leaders and celebrities, rising temperatures, devastating natural disasters, the US presidential election and so much more, 2016 has been a year we won't soon forget.
The story of this year is difficult to fully capture in words.
Here are 27 of the most powerful images from 2016 that truly embody how eventful, and often chaotic, the past 12 months have been.
The Oregon standoff was one of the first events to make headlines in 2016. It was a prelude to a whirlwind of a year.
This heartbreaking image of a dead child's body on the ground in Nice is a painful reminder of the many terror attacks we witnessed across the globe this year.
Whether people like it or not, 2016 was the year of Donald Trump. Here, we see Trump supporters celebrating his victory outside of the White House.
Trump remains a contentious figure, even after his election victory. This image of protesters at one of his campaign rallies is emblematic of the divided nature of the US in 2016.
Senator Bernie Sanders' presidential campaign was not as successful as many hoped, but he inspired a political movement that's still going strong.
2016 was definitely a year of protests. This image of a demonstrator in Santiago, Chile, facing off with riot police is a powerful example of this.
This image of a woman being detained by riot police in Baton Rouge, Louisiana, during a demonstration over the fatal shooting of Alton Sterling stands as one of the year's most iconic images.
Usain Bolt reminded us he's the fastest man alive by stopping to smile for the camera before winning the 100-meter at the Rio Olympics.
This image of Trump greeting a supporter captures both the madness and excitement surrounding his presidential campaign.
Trump's election victory shocked people around the world. Here he is on the night of the election, looking victorious.
This image of a child being rescued by the Greek Coast Guard is a heartbreaking representation of the global refugee crisis.
A woman crying after a deadly terror attack at Istanbul's Ataturk Airport stands as a painful reminder of the difficult year Turkey has had.
In addition to multiple terror attacks, Turkey also experienced a failed coup in July, which prompted widespread demonstrations in Istanbul and left a number of people dead.
Hillary Clinton might've lost the presidential election, but she remains an inspirational figure to millions of people.
After the Panama Papers revealed controversial details regarding the business activities of Iceland's prime minister, Sigmundur Davíð Gunnlaugsson, thousands of protesters descended upon parliament to demand he resign.
This photo of Omran Daqneesh, a boy who was pulled from rubble in Aleppo, immediately became one of the most iconic images of the conflict in Syria.
The world lost a lot of influential figures this year. In this image, a woman is seen placing a bouquet of flowers at a David Bowie tribute in London.
Protests against the Dakota Access Pipeline in North Dakota captured the nation's attention due to its connection to climate change and the treatment of indigenous peoples.
This image of a father fleeing Aleppo with his wife, holding his child and an IV drip, is a painful reminder of the horrors Syrians have faced due to an ongoing war.
Thousands of protesters swarmed the streets of New York City to give Trump a piece of their mind the night after the US presidential election.
This image of a Hillary Clinton supporter on the night of the election captures how many felt as results came in.
It wasn't just celebrities who died in 2016, major figures from the 20th century like Fidel Castro also passed away. People in Miami celebrated the news of Castro's death.
A guardsman fainted during the Trooping the Colour ceremony in London over the summer, and the image inevitably became a popular meme.
It also seems to represent the general sentiments surrounding 2016. In short: This year has been a struggle. But, somehow, we made it. Congrats, humanity.
Citations: MailOnline, CNN, BBC, CNN