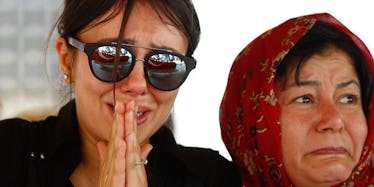 Two Terror Attacks This Week Remind Us This Violence Isn't About Religion Or Nationality
REUTERS
There were two major terror attacks this week, and both speak a great deal about who we are and how we respond to terrorism.
On Tuesday, an attack at Istanbul Ataturk Airport, the largest airport in Turkey, claimed the lives of 45 people and injured over 200 more.
Early on Saturday, an attack at a cafe in Dhaka, Bangladesh, claimed the lives of 20 people.
Both of these attacks occurred in majority Muslim countries (Turkey is 99.8 percent Muslim, Bangladesh is 89.1 percent Muslim). While the investigations surrounding these incidents are ongoing, ISIS is suspected of perpetrating both.
Accordingly, both of these attacks should remind us Muslim countries are the primary victims of jihadism, a fact that's often forgotten in the anti-Islam rhetoric emanating from Western politicians following acts of terror.
All of this should remind us this sick violence is not a product of any single religion or nationality.
Most of those killed in Dhaka were foreigners, including at least nine Italians and seven Japanese.
There were also three American students among those killed.
Two of them, Abinta Kabir and Faraaz Hossain, were students at Emory University.
Kabir was from Miami and visiting family in Dhaka. Hossain was from Bangladesh. The third, Tarishi Jain, was an Indian national and student at the University of California Berkley.
The fact a diverse array of foreigners were killed in this heinous attack should stand as a reminder we have far more to gain from standing together against terrorism than we do using incidents like this to highlight what makes us different.
If we did that more often, perhaps we would pay more attention to terrorism wherever it occurs, and not on the basis of whether we can relate to or identify with the victims.
Whether a terror attack occurs in Paris, San Bernardino, Brussels, Orlando, Istanbul or Dhaka, we should all be outraged any time innocent lives are stolen from this world because of hate.
In the process, we will prevent the terrorists from achieving their primary goals: increasing fear and divisiveness between the world's peoples, who actually have far more in common than they often realize.