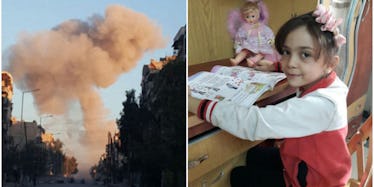 7-Year-Old Syrian Girl Posts Heartbreaking Last Tweet: 'Can't Be Alive Anymore'
Twitter
Bana Alabed is the internet's stark reminder that the war in Aleppo, Syria, is very real and very personal.
The 7-year-old has been documenting her life in the war-torn city for a while on Twitter.
Her mother posts on her behalf, shedding light on her daughter's struggle and determination to grow up in a capital darkened by violence.
However, other the past couple days, her tweets have become more and more worrisome.
Yesterday, Bana shared photos and videos of dust clouds caused by explosives rising extremely close to her home.
Concerning captions read, "We are so scared, pray for us."
The string of tweets included one with the words, "Please save us right now."
Today, fears for the girl's safety grew even more when Fatemah, her mother, appeared to sign off Twitter with a final tweet. She said,
The army got in, this could be our last days sincerely talking. No internet. Please please please pray for us.
A second tweet read,
Last message - under heavy bombardments now, can't be alive anymore. When we die, keep talking for 200,000 still inside. BYE.
The tweet was posted in the early hours of November 27, and there has been no update as of yet.
The media spotlight fell heavily on Bana after a photo was posted to her account back in September.
It shows the youngster reading at a desk alongside the poignant caption,
Good afternoon from #Aleppo I'm reading to forget the war.
The tweet has been pinned on her account as a constant reminder of her everyday struggle to lead a normal life in Aleppo.
Her account was made active around the same time the photo was posted. Her account description reads,
Hi I'm Bana I'm 7 years old girl. I and my mom are tweeting live from East Aleppo. Account managed by mom.
More than 11 million people have been forced out of their homes since the conflict began five years ago.
Citations: REUTERS