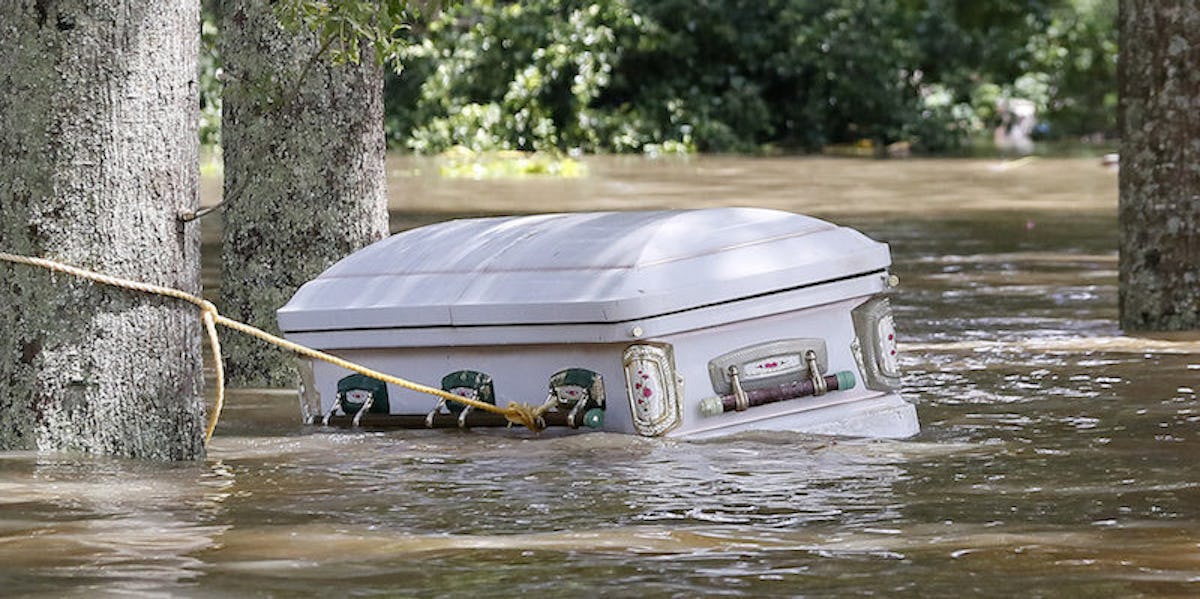 Devastating Pics Show Floods Have Turned Louisiana Into A Floating Graveyard
REUTERS
Parts of Louisiana have been turned into floating graveyards after floods devastated Baton Rouge and surrounding areas, claiming at least seven lives.
more than 20,000 people have been rescued since Friday in some of the worst flooding the state's ever seen, according to AP.
The reported death toll was recently raised to eight after a body was pulled from the water in Baton Rouge.
In Ascension Parish, graveyards were flooded and coffins were left floating.
More than 2 feet of rain fell in the town of Zachary over a 48-hour period, and according to ABC News, the town of Livingston got nearly 22 inches over a 24-hour period.
Schools and churches across the state are now being used as evacuation bases and shelters for those whose homes were destroyed in the floods.
Louisiana Governor John Bel Edwards said,
I'm very proud of the effort that we're making. More than anything else, I'm proud that Louisianians are taking care of their own and people are being neighbors to one another.
The weather system that deluged Louisiana over the weekend is moving on to Texas. But, the risk of more flooding in the state remains high.
NASA used its satellites to plot the extent of the rain.
NASA said in a statement,
The Integrated Multi-satellite Retrievals for GPM (IMERG) data showed heavy rainfall totals moving toward the northwest from the Florida Panhandle into the central northern Gulf coast. Over 20 inches (508 mm) of rainfall was estimated in large areas of southeastern Louisiana and extreme southern Mississippi. Even greater rainfall totals of 30 inches (762 mm) were indicated in a small area of Louisiana west of Lake Pontchartrain.
Want to help?
Members of the Rho Epsilon chapter of Zeta Phi Beta Sorority, Inc. launched a GoFundMe page with the aim of raising $10,000 to help flood victims. The page's raised more than $5,000 so far.
There's also a way to get involved with volunteering. Volunteer Louisiana has details on its website about how you can make a difference.
Citations: Grim sight as coffins surface following devastating floods in Louisiana (Metro), Louisiana Flooding Leaves Most Livingston Parish Residents Facing Total Loss, Sheriff Says (ABC News), As People Survey Louisiana Flood Damage, 8th Death Reported (ABC News), NASA Analyzes Deadly Louisiana Flooding (NASA), Southeast Louisiana storm updates: Closures, flooding from Aug. 12-14 (NOLA.com)