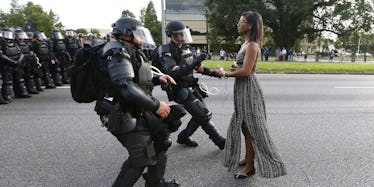 This Photo Of A BLM Protester In A Dress Is Going Viral For A Powerful Reason
REUTERS
A photo of a woman facing armored police officers during a protest against police brutality is going viral, and it's easy to see why.
The picture is stunning, capturing a powerful moment between nurse and mother Ieshia L. Evans, and the police she faces down.
The woman was protesting in Baton Rouge, Louisiana, on Sunday when this photograph was taken.
She was making her stand. She said nothing and was not moving.
Last week, Alton Sterling, a black man, was shot and killed by a Baton Rouge police officer while he was being held down by another officer. A video of his killing was widely spread on social media. Then, on Wednesday, Philando Castile, also a black man, was shot and killed by a police officer when he was pulled over for driving with a busted tail light. Video of the aftermath of his killing was also shared heavily on social media.
Because of these deaths, protests against police brutality occurred in many cities around the United States. This included Dallas, Texas, where five police officers were killed by a gunman.
There was a large protest in Baton Rouge. Police came in full armor to monitor the protests. Over 100 protestors were arrested, including prominent Black Lives Matter figure DeRay Mckesson. Photos of Mckesson's arrest, namely one by photographer Max Becherer, also spread on social media and news reports.
The woman in the photo was also allegedly detained by the police. The picture was taken by New Orleans-based photographer Jonathan Bachman for Reuters. It was taken outside of the Baton Rouge police headquarters.
Bachman told the BBC,
The police were called out to clear Airline Highway where demonstrators had blocked the road... They managed to get most of the protesters off to the side... I looked over my right shoulder and saw the woman step onto the road. She was making her stand. She said nothing and was not moving. It was clear that the police were going to have to detain her.
Bachman captured more images of the incredible demonstration in Baton Rouge this weekend.
Citations: BBC