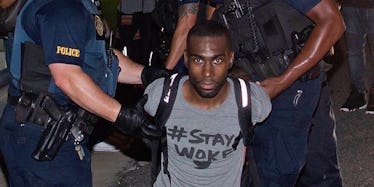 DeRay Mckesson Was Violently Arrested For No Reason And Twitter Is Furious
Twitter
Update 5:13 pm Eastern Time:
According to The New York Times, DeRay Mckesson was released from jail Sunday around 3:30 pm.
Booking records also confirmed the reason for Mckesson's arrest: simple obstruction of a highway of commerce.
DeRay Mckesson, a prominent voice in the Black Lives Matter movement, was arrested in Baton Rouge, Louisiana late Saturday night, according to The Washington Post.
Mckesson was live-streaming the remnants and dispersal of peaceful protest on Periscope at the moment when he was arrested. The actual arrest portion of Mckesson's 15-minute stream can be seen below, followed by a link to Mckesson's entire Periscope video of the protest.
In the clips, you can hear a police officer shout at Mckesson, "You're under arrest!" and Mckesson's response "I'm under arrest, y'all!" as he drops his phone.
In the longer clip, the 31-year-old appears to be simply filming the results of the protest and walking on the shoulder of the road when the officer tells him he's under arrest.
According to The Washington Post, DeRay Mckesson's visibly violent arrest occurred around 11 pm and more than 120 others were arrested across multiple protests in Baton Rouge.
A witness described the arrest to The Post, saying,
They tackled him. One officer hit the top of his body and another officer the bottom.
According to the website for the East Baton Rouge Parish Sheriff's Office, DeRay Mckesson is still in jail as of publication. No charge is currently listed on the website, but an anonymous official told The Post the arrest was for obstructing a highway of commerce. No official cause of arrest has been released as of publication.
To add insult to injury, it was Mckesson's birthday, July 9, when he was arrested.
Tons of people, including a number of celebrities, started tweeting #FreeDeRay in support of DeRay Mckesson, with one photo of his arrest being tweeted and retweeted thousands of times.
A true revolutionary, @deray arrested on his birthday. #blacklivesmatter #BatonRouge — Margaret Cho (@margaretcho) July 10, 2016
Some people even compared Mckesson to Martin Luther King, Jr., with some tweeting out photos of MLK's arrest.
Though the majority of #FreeDeRay tweets seem to support Mckesson and think his arrest was unjust, not everyone agrees and supports him.
Elite Daily spoke with DeRay Mckesson last year where he emphasized the power of telling the truth, saying,
Telling the truth is a radical act.
It appears on Saturday night, Mckesson was arrested for even less than that.
Citations: Black Lives Matter activist DeRay McKesson arrested by Baton Rouge police (The Washington Post), DeRay McKesson Released After Arrest During Protest (The New York Times)