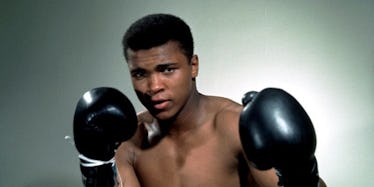 14 Incredible Muhammad Ali Quotes That Truly Prove He Was 'The Greatest'
Action Images
Muhammad Ali died Friday night at the age of 74 after being hospitalized with a respiratory issue.
The legendary boxer known as "The Greatest" was considered one of the best professional fighters of all time. He was a three-time world heavyweight champion and an Olympic gold medalist over a 21-year career.
But outside the boxing ring, Muhammad Ali was also well-known for his outspoken character and willingness to say whatever he was thinking.
Sometimes "The People's Champion" would say something profound and other times he would say something arrogant, but no matter what Ali said, it was always quotable.
Not only that, but I think everyone can agree Muhammad Ali was one of the few people on Earth who not only had the confidence and swagger to say what he wanted but also the actual skill to back up his words.
Ali always meant what he said, and he had a lot to say.
Check out some of Ali's most memorable quotes below.
"Don't count the days; make the days count."
"He who is not courageous enough to take risks will accomplish nothing in life."
"Live everyday as if it were your last because someday you're going to be right."
"I'm young; I'm handsome; I'm fast. I can't possibly be beat."
"If you even dream of beating me you'd better wake up and apologize."
"Float like a butterfly, sting like a bee. His hands can't hit what his eyes can't see. Now you see me, now you don't. George thinks he will, but I know he won't."
"Braggin' is when a person says something and can't do it. I do what I say."
"I am the greatest, I said that even before I knew I was."
"Impossible is just a big word thrown around by small men who find it easier to live in the world they've been given than to explore the power they have to change it. Impossible is not a fact. It's an opinion. Impossible is not a declaration. It's a dare. Impossible is potential. Impossible is temporary. Impossible is nothing."
Citations: 30 of Muhammad Ali's best quotes (USA Today), Muhammad Ali dead at 74: Memories, quotes, famous fights and more on boxing legend (Al.com)