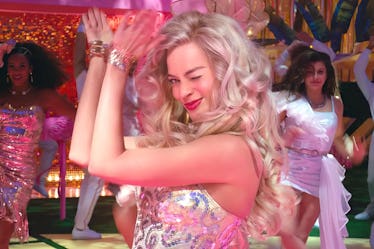 This Barbie Matches Your Vibe, According To Your Zodiac Sign
Warner Bros.
The Barbie Cinematic Universe is giving Marvel a run for its money. The MCU may have all the Hollywood Chrises, but the Barbie movie cast is equally stacked. Margot Robbie! Ryan Gosling! Dua Lipa! The film doesn't hit theaters until July 21, but it already got meme'd and has its own aesthetic (hey, Barbiecore) that went rampant after the first photos of the stars in the Greta Gerwig movie made headlines. So there really is no better time to find out the Barbie character that matches your zodiac sign's vibe. Or the Ken. Or Midge.
If you've never related much to the OG Barbie, not to worry, because the upcoming Barbie film — which also features Issa Rae (Insecure), Alexandra Shipp (X-Men: Apocalypse, Love, Simon), and Ritu Arya (The Umbrella Academy) — has a diverse selection of Barbies to match each zodiac sign. One's a mermaid, another's a Supreme Court justice — there's even a President Barbie. (Life in plastic really does sound fantastic, doesn't it?) If you want to get a head start on your Halloween costume for 2023, or you're simply looking for your next Instagram story post, here's the Barbie doll that's made for you, based on astrology.
Aries: You're Pulitzer Prize-Winning Barbie
Nothing screams ambitious like securing a Pulitzer Prize, making this Barbie the perfect match for any Aries. Like you, this award-winning doll is incredibly competitive and career-driven. Hello, she's obtained one of the most prestigious honors in existence (apparently, even in Barbie Land) — that's big main-character energy right there.
Taurus: You're OG Barbie
If there's one thing you have an eye for, Taurus, it's aesthetics. You and the Margot Robbie of all Barbies have that in common — the OG Barb is notorious for serving looks. You may prefer more neutral tones, but your sense of style and obsession with luxury and all things pleasure-filled could not be more alike.
Gemini: You're Marker Face Barbie
You remember those dolls you experimented with as a kid? The ones you'd scribble all over ("What, they needed a makeover."), chop up their hair ("You mean... it doesn't grow back??"), and constantly have doing splits just because you could? That Barbie is so your vibe. Colorful, chaotic, and flexible AF, Geminis aren't afraid to color outside the lines.
Cancer: You're Midge
They don't call you the mother of the zodiac for nothing, Cancer. Like Midge, you're soft and nurturing. The mom of your friend group, you have a way of making everyone around you feel right at home. Even if you don't have your own Happy Family — complete with a newborn in tow — at the moment, you're incredibly sensitive and family-oriented.
Leo: You're Ken
Ken may not be the lead in the Barbie movie, but he's still a total star (he's played by Ryan Gosling for crying out loud). Not only is he incredibly popular in Barbie Land, but he's got amazing hair and is always dressed to impress. Since you're the life of the party and always the center of attention, you can't help but relate.
Virgo: You're The Narrator
Communication is key for you, Virgo. You're always eager to share information with others, a trait of any great narrator. Since they're tasked with effectively recounting a story — something you could do in your sleep — they're usually perfectionists as well. Perhaps you and Helen Mirren's alter ego could swap secrets.
Libra: You're Supreme Court Justice Barbie
Equality is everything to you, Libra. As the sign of the Scales, you're all about treating people fairly, like Supreme Court Justice Barbie. You may not be the biggest fan of confrontation, but you always try to see other people's POVs before passing judgment.
Scorpio: You're Author Barbie
Waitaminute, this Barbie is intelligent and successful? What a coincidence, because that sounds just like a Scorpio. You remember everything and keep tabs on everyone, some of the must-have signs for a "celebrated" writer. Research is probably not anyone's favorite thing, but you can't help but love the outcome of all your hard work.
Sagittarius: You're Diplomat Barbie
Trailblazers unite, Sagittarius! This Barbie is ready to take over the world, which is something that you — the free-spirited sign of the zodiac — are all about. Regardless of what you wear, you and Diplomat Barbie mean business; you have strong opinions and aren't afraid to speak your minds. Own it.
Capricorn: You're President Barbie
The White House is calling your name, Capricorn. There are so many reasons the Sea-Goat is considered one of the zodiac signs most likely to make an awesome president: They're fair, goal-oriented, and natural-born leaders. Who else could you be but President Barbie?
Aquarius: You're Nobel Prize-Winning Barbie
You couldn't be more of a humanitarian, Aquarius. You're passionate about social issues and prioritize being educated on the world around you. Outsmarting the opposition is practically a hobby of yours. Enter, Nobel Prize Barbie.
Pisces: You're Mermaid Barbie
Surprise, surprise, the sign of the fishes matches up with the mermaid doll. Swimming through life is 100% your brand, Pisces. You're open-minded and receptive to your environment, a major Mermaid Barbie mood, and couldn't be rigid if you tried. Just keep swimming.