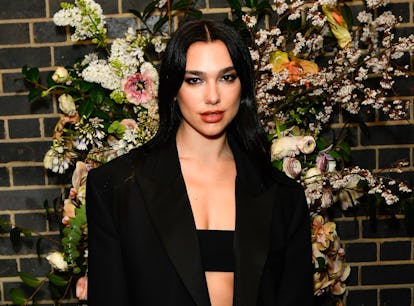 Dua Lipa Will Do Some Deep Sea Diving In The New Barbie Movie
David M. Benett/Getty Images Entertainment/Getty Images
After a three-year stint at Club Future Nostalgia, Dua Lipa has retired her nights there to become a siren in Barbie Land. No, seriously. On April 4, the character posters for Greta Gerwig's upcoming Barbie film were revealed, and it's a candy-colored dream. Among the star-studded cast is Dua, who stars as a blue-haired mermaid doll with a penchant for pearls. The thought of her making a splash in the Dreamhouse pool is iconic, and her fans excitedly agreed on Twitter.
The poster of Dua's character sees her posed in front of a purple backdrop while wearing a teal seashell top. Her tail isn't shown in the frame; however, the tagline "this Barbie is a mermaid" confirms it definitely exists. The highlight of this glittery shot has to be her vibrant wig, which fits Barbie's plastic muse well. There's something about her waist-length tresses that *scream* Party City, but it's still glam enough to serve camp.
As if Dua's presence in Barbie isn't exciting enough, there are also rumors she might have recorded new music for the film's soundtrack. Neither Dua nor director Greta Gerwig have confirmed or denied this, but here's hoping that microphones work underwater.
Dua's appearance in this cast isn't too surprising, as she's been rumored to appear in the project since last December. According to Billboard, fans noticed the movie's Instagram page followed and unfollowed the singer at the time. Since the account only follows the cast members, people believed she was involved in the project somehow. Now, it's clear she's living in a Barbie world.
Alongside unveiling photos of the entire cast, Warner Bros. Pictures also released a second teaser for the film. Starring head Barbie (Margot Robbie) and boyfriend Ken (Ryan Gosling), the trailer hints the two lovebirds want to escape Barbie Land for the "Real World." Dua doesn't appear in the trailer, but other dolls played by Simu Liu, Issa Rae, and Sex Education's Emma Mackey pop in for some plastic fun.
As for Dua, Twitter is obsessed with her new Barbie girl title. Below, some of the best reactions to her role.
OK, this would be such a moment.
With her blue hair, fans believe Dua's character is a play on Nori from Barbie's Mermaidia.
Greta Gerwig's Barbie hits theaters July 21.