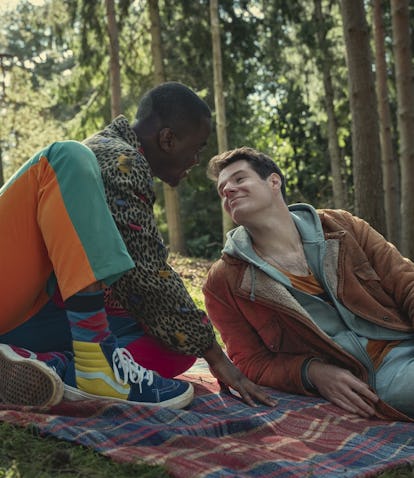 The Barbie Movie Is Basically Just A Sex Education Reunion
It's safe to say Greta Gerwig is a fan of the show.
Netflix
As it turns out, life after Moordale is pretty fantastic. Greta Gerwig's highly anticipated Barbie movie is packed with megastars, but the real treat for Sex Education fans is the reunion of Emma Mackey, Ncuti Gatwa, and Connor Swindells. Among the expansive cast list, the three fan-favorite Netflix stars stand out as a familiar trio, and there are several reasons why fans are excited to see them together on the big screen.
Mackey, Gatwa, and Swindells were all announced to be part of the Barbie cast back in 2022, but because the cast list was so stacked (Margot Robbie! Ryan Gosling! Dua Lipa!), it wasn't until all the character posters were released on April 4 that Sex Education fans really noticed the exciting reunion. One of the reasons Mackey's casting stands out so much is how often she's been compared to Barbie star Margot Robbie since her breakout role as the rebellious schoolgirl Maeve. As for Gatwa and Swindells, Sex Education fans already see them as a pair thanks to their adorable enemies-to-boyfriends storyline as Eric and Adam on the show, so seeing them together again is a real treat.
The first looks at their characters revealed their roles in the movie. Mackey will play one of several Barbies — hers just so happens to have a Nobel Prize in physics, which feels fitting for the brainiac Maeve.
Gatwa will play one of several Kens.
And Swindells is not in the doll world at all. His character is described as a human, who's an intern.
The big-screen reunion is coming at an important time for Sex Education fans, as the show's upcoming fourth season will be the last for many members of the main cast. Both Mackey and Gatwa have announced they're departing from the series after Season 4, leading many to wonder if the series is nearing its end. If that is the case, at least the diehard Sex Education fans will have the Barbie movie to see their fave together again... even if it's in a world far from Moordale.