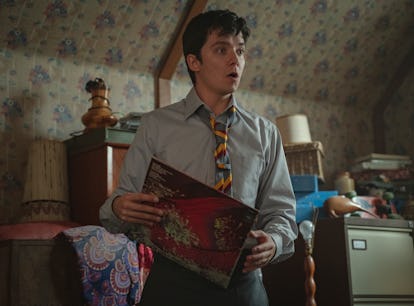 Otis Is Back & More Awkward Than Ever In The Sex Education Final Season Trailer
It's time for the big finish.
Netflix
Moordale isn't leaving your screen just yet! On Sept. 25, 2021, Netflix announced its renewal of the hit series for another season, although it would be quite a wait for the new season. But it's finally about to arrive in the fall of 2023. The last season left a lot of stuff up for debate, so here's everything to know about Sex Education Season 4, including returning cast, changes afoot, and more.
Warning: Spoilers for Sex Education Season 3 follow. Netflix announced Sex Education will return for Season 4 during its inaugural TUDUM event, which was well timed, as Season 3 had only recently dropped days earlier. Considering how Season 3 concluded, with Moordale shutting its doors and being sold off to developers, fans were worried the series might be over. However, the school closing left room for changes, from the headmaster to the student body and even the setting. Plus, new relationships can grow with Otis and Maeve on separate continents and Eric breaking up with Adam.
Season 4 will also bring the primary group of original characters to Sixth Form, which means this next season will spell graduation for quite a few (as long as they pass their classes). So, what sort of changes can fans expect for the new season? Let's get into all the details known so far.
Sex Education Season 4 Filming Updates
Sex Education Season 4 was confirmed in September 2021 at TUDUM, with production sources suggesting the series would start to film in late summer 2022. Those estimates were correct, as star Asa Butterfield confirmed on Twitter.
On Aug. 5, 2022, Butterfield posted a photo from behind the scenes confirming Sex Education Season 4 filming was underway.
Filming ended in February 2023, as several main cast members confirmed they would not be returning to the series, although Netflix had not yet revealed Season 4 would be the show's last.
Sex Education Season 4 Cast
Asa Butterfield will return as Otis Milburn; same with Gillian Anderson as his mother, sex therapist Jean Milburn. She ended Season 3 by giving birth to Otis' half-sibling, Joy, and the paternity of Otis' half-sister is still unanswered.
Ncuti Gatwa, who plays Otis' BFF Eric, and Emma Mackey, who plays his ex Maeve, will be back as well, although Mackey's screen time is in question since Maeve ended Season 3 by taking a study abroad experience in America.
Though the core cast is confirmed to return, Sex Education is due for a cast shake-up. When the show premiered in 2017, only Butterfield and Anderson were household names. However, multiple cast members have rocketed to fame since the show became a hit. For example, Simone Ashley, who played Untouchable Olivia, is now an A-list actress and critical player in the Bridgerton series as Kate. Ashley confirmed she would not be able to return to the world of Moordale, or whatever school everyone is in, this coming season, as Bridgerton and Sex Education filming will overlap.
Two more cast members also confirmed they will not return. On July 5, Patricia Allison confirmed during an interview with Capital Xtra Breakfast that she will not return as Ola Nyman for Season 4. On July 13, in an interview with The RadioTimes promoting her new UK comedy, I Hate You, Tanya Reynolds, who plays fan-favorite hairstylist extraordinaire Lily Iglehart, confirmed she will not come back either.
Also moving on: Rakhee Thakkar, who played English teacher Emily Sands. She confirmed to the RadioTimes on Aug. 1 that her character would not be back.
On Aug. 19, fans got a major casting announcement: Dan Levy is joining the cast of Sex Education Season 4 in a recurring role. The Schitt's Creek star announced the project on his Instagram with the caption, "VERY serious news."
In addition to Levy, six other new names were added to the cast: Thaddea Graham, Marie Reuther, Felix Mufti, Anthony Lexa, Alexandra James, and Imani Yahshua.
Sex Education Season 4 Plot
There are several loose ends to wrap up in the upcoming season after the tumultuous end of Season 3. Maeve is on her way to America, leaving her and Otis to figure out if they can manage long-distance. Eric is newly single, but his insecurities could derail any chance he has at putting himself out there. The school's two non-binary students, Cal and Layla, are also looking for relationships while navigating who they are.
Here's the official Netflix synopsis for Season 4:
Following the closure of Moordale Secondary, Otis and Eric now face a new frontier — their first day at Cavendish Sixth Form College. Otis is nervous about setting up his new clinic, while Eric is praying they won't be losers again. But Cavendish is a culture shock for all the Moordale students — they thought they were progressive but this new college is another level. There's daily yoga in the communal garden, a strong sustainability vibe and a group of kids who are popular for being … kind?! Viv is totally thrown by the college's student-led, non-competitive approach, while Jackson is still struggling to get over Cal. Aimee tries something new by taking an Art A Level and Adam grapples with whether mainstream education is for him. Over in the U.S., Maeve is living her dream at prestigious Wallace University, being taught by cult author Thomas Molloy. Otis is pining after her, while adjusting to not being an only child at home, or the only therapist on campus.
Sex Education Season 4 Trailer
After months and months of speculation, the Season 4 trailer finally confirmed that Season 4 would be Sex Education's final run. The first look gave a glimpse at Otis awkwardly introducing himself as a sex therapist to a new class of students.
Sex Education Season 4 Release Date
Sex Education Season 4 will drop on Netflix on Sept. 21.
This article was originally published on