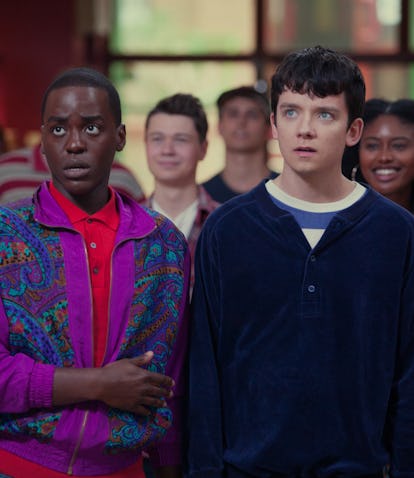 So Um, It's Time For Sex Education To Wrap It Up
The show won't be the same without its brightest stars.
Netflix
As sad as it may be, it's time to say goodbye to Moordale. No, I don't want to lose the witty, touching, and refreshingly frank Sex Education either, but the writing's on the wall: Season 4 should be the show's final bow. Netflix hasn't officially revealed whether the series will continue beyond its fourth season, but there are several reasons why ending Sex Education after Season 4 just makes sense, from a mass exodus of fan-favorite stars to the simple logistics of making a high school show.
Sex Education fans have been in the trenches ever since Season 3 was released in the fall of 2021. As if the two-year wait for Season 4 wasn't torturous enough, cast members have been dropping from the show like flies. First, Patricia Allison (Ola Nyman) confirmed her departure following Season 3, then Tanya Reynolds (Ola's love interest, Lily Iglehart) also exited the show. Simone Ashley also revealed her character Olivia Hanan won't be in Season 4, presumably due to her new lead role in Bridgerton.
Each of those departures stung, but not as badly as two of the show's main characters heavily implying they were done with the show after Season 4. Shortly after filming wrapped on the fourth season in early February, Ncuti Gatwa posted a final goodbye to his beloved character, Eric Effiong.
"Last day. Last time," Gatwa wrote under a sign with Eric's name. "Bye bubs, thank you for all the lessons and for all the strength."
It's easy to see why Gatwa was ready to move on: Not only is he starring in the impossibly buzzy Barbie movie, but he's also taking over the iconic title role in Doctor Who.
Shortly after Gatwa's post, Emma Mackey also strongly suggested she's leaving Sex Education after Season 4 as well. "It's something that I want to gracefully exit from, and be happy that it exists and protect it and enjoy it in the time that it has existed in but yeah, it needs to be left alone now I think," Mackey told Total Film in a Feb. 13 interview. "We can all move on and take what we learned from Sex Ed as well because it has been a school, quite literally, for all of us."
Mackey's character Maeve Wiley will be separated from the rest of the main cast in Season 4 after enrolling in a study program in the United States, so speculation around her potential exit began right after the Season 3 finale. Mackey will also be in the Barbie movie alongside fellow Moordale alum Gatwa, and has been getting rave reviews for her portrayal of Emily Brontë in her latest movie, Emily.
Mackey also hit on another reason it might be time for Sex Education to call it quits in her interview: the age of the main cast. "We're playing 17-year-olds, and we're all almost 30. It is a bit weird," Mackey noted.
Age indeed presents another significant roadblock for high school shows like Sex Education: What do you do when it's time to graduate? Things get a bit wonky when high-school shows try to keep everyone together in college years. Boy Meets World bent over backward trying to justify all its main characters of varying academic strengths attending the same university, and Riverdale straight-up ignored those postgrad years with a massive time jump. The best approach is the one Never Have I Ever is taking: a graceful exit after four seasons of high school shenanigans.
It certainly looks like Sex Education may be going that route, but there is also the possibility the show could keep going with a whole new cast, similar to soapier teen dramas like Elite or Degrassi. But Sex Education is so invested in its core relationships that it would be difficult to keep enjoying the show without Eric's over-the-top reactions or Maeve's biting comebacks.
So, while it'll be sad to say goodbye, Sex Education fans should rest assured that four seasons is the perfect run for the show. It's time for Otis' clinic to close for good.