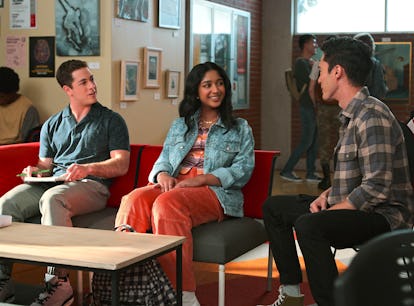 Devi & Ben Deal With Post-Sex Awkwardness In Never Have I Ever's Final Trailer
Netflix © 2022
When Never Have I Ever debuted on Netflix in 2020, it began with its main characters starting their sophomore year of high school. That decision suggested a series length of about three to four seasons, covering Devi Vishwakumar's full high school experience. It turns out that assumption was correct, as Netflix announced in March 2022 that Season 4 of Never Have I Ever will be the show's last. After a year of waiting, the potential rollercoaster that is Devi's senior year will hit Netflix on June 8.
The series, produced and written by Mindy Kaling and Lang Fisher, stars Maitreyi Ramakrishnan as Devi, an Indian American teenager from Los Angeles whose love life is complicated by having two potential boys to choose from. Devi also struggles with many issues first-generation children of immigrants encounter: She doesn't want to disappoint her widowed mother, but also wants a typical American teenage experience. On top of that, she's dealt with the insecurities many teen girls suffer from: She's jealous of those she's perceived as more confident than her and is plagued by self-doubt.
Season 3 saw Devi power through a lot of those issues, and by the end of the season, she had a newfound self-confidence.
Here's everything to know about the series' final season.
Never Have I Ever Season 4 Filming Updates
On March 8, 2022, Mindy Kaling announced Season 3 of Never Have I Ever was on its way to arrive in the summer. She also let everyone know the show had been renewed for a fourth season but that it would be the show's last.
On Aug. 3, with Season 3's arrival just around the corner, actor Maitreyi Ramakrishnan confirmed the final season had wrapped filming.
Speaking to Entertainment Weekly on Aug. 13, after Season 3's arrival, co-creator Lang Fisher explained why the team chose to end the series now. "It's hard when you have a high school show because you can't keep them in high school forever," Fisher explained. "It feels false for everyone to go to college together, or you have to introduce a whole new crew of characters that nobody cares about it. That's a hard move to make."
Never Have I Ever Season 4 Trailer
On Apr. 13, Netflix released a first look teaser for Never Have I Ever's fourth season. With the motto "It's freakin' senior year," the teaser sees Devi and her friends making the most of their final year — even if things get a bit crazy.
The full trailer was released on May 9, showing the aftermath of Devi and Ben's hookup at the end of Season 3. Apparently, Ben only saw it as a "one-time thing," so fans who hoped the romantic moment meant Devi and Ben were finally official will have to keep waiting. The trailer also confirmed Paxton will return, despite graduating and going off to college at the end of Season 3.
Never Have I Ever Season 4 Cast
With the conclusion of Season 3, the series confirmed the core cast would return for the show's final season. That includes Ramakrishnan as Devi, Ramona Young and Lee Rodriguez as Devi's BFFs Eleanor and Fabiola, and Darren Barnet and Jaren Lewison as Devi's two love interests, Paxton and Ben. The show confirmed Barnet's return for the final season, with "as much [screen time] as in Season 3" despite Paxton graduating at the end of Season 3 with plans to head off to college.
Poorna Jagannathan will return as Devi's mother, Dr. Nalini, and Ranjita Chakravarty as Nirmala Vishwakumar, Devi's grandmother. Richa Moorjani will be back as Devi's cousin, Kamala; Utkarsh Ambudkar as Mr. Manish Kulkarni, the English teacher/Kamala's boyfriend; and John McEnroe, who narrates Devi's life. Also expected to make guest appearances: Sendhil Ramamurthy as Mohan Vishwakumar, Devi's late father.
Other returnees include Niecy Nash as Dr. Ryan, Devi's therapist; Megan Suri as Aneesa, now the ex-girlfriend of Devi's love interest Ben and Devi's BFF Fabiola; and Benjamin Norris as Trent Harrison, Eleanor's boyfriend.
One character is definitely off the table: Anirudh Pisharody, who played Devi's boyfriend, Des, in Season 3. The actor confirmed to People he will not be back for the show's final episodes.
Fans also expect Lily D. Moore to be back as Rebecca, Paxton's sister; Alexandra Billings to return as Jennifer Warner, the college counselor; Adam Shapiro as Mr. Lyle Shapiro, the history teacher; and Cocoa Brown as Principal Grubbs.
In new additions to the cast, the series has brought aboard Ivan Hernandez (The Good Wife) as Andres, who will be a potential new love interest for Devi's mother. But it sounds like the biggest new addition to Season 4 will be Love, Victor star Michael Cimino. He will be playing Ethan, a new student at Sherman Oaks High. Cimino hinted that Ethan may be a new love interest for Devi during the cast's brief teaser for the season that Netflix dropped on Sept. 24.
Never Have I Ever Season 4 Plot
That cast teaser also included a ton of hints about what's to come in Season 4, including a mysterious wedding. Barnet also confirmed once again that Paxton will indeed be back for the final season, and Cimino FaceTimed in to suggest Devi's love triangle may become a love square with the introduction of his character Ethan.
Never Have I Ever Season 4 Release Date
Never Have I Ever Season 4 will arrive on Netflix on June 8.
This article was originally published on