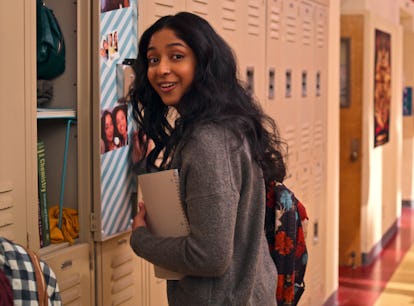 6 Theories About Never Have I Ever's Final Season
Netflix © 2022
Since the Season 1 debut of Never Have I Ever, Devi's life has turned upside down. She's gone from a girl paralyzed by her own emotional trauma to a confident student heading into her senior year of high school at Sherman Oaks High School. It took some surprise twists to get here, but now the final season is on its way. These theories about Never Have I Ever Season 4 suggest the final episodes will see even more significant changes before the series is through.
Warning: Spoilers for Never Have I Ever Season 3 follow. Devi's journey over the series' first three seasons has been remarkable. She's gone from someone who sees herself as bottom of the social barrel to a person who loves herself for who she is and can recognize her own strengths.
However, getting there meant going through some serious emotional drama. She landed Paxton as a boyfriend only to drive him away with her insecurities. Instead of doing the expected thing and bouncing back to Ben in her never-ending double crush, she found the strength to walk away from the whole mess and discover the excitement of dating someone completely new. And although her relationship with Des didn't work out, the experience helped her find herself as a person, and she closed out Season 3 ready to see herself as worthy — and maybe even ready to try dating one of her original crushes again.
Here are some theories about what she might do next.
All episodes of Never Have I Ever Seasons 1 through 3 are streaming on Netflix. Season 4 is expected out in 2023.