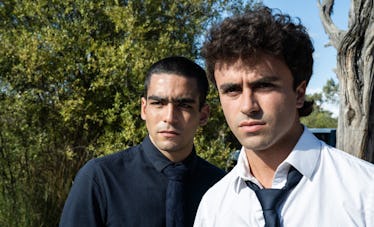 Elite's Season 6 Teaser Reveals The Premiere Date In A Sexy Montage
Just when you thought this show couldn't get any raunchier...
Netflix
Another term at Las Encinas has come and gone, and Elite's Season 5 finale may have been the show's most shocking yet. After that jaw-dropping cliffhanger, every fan is eagerly anticipating the hit Spanish drama's return so that we can finally get some answers. Thankfully, Elite Season 6 has been confirmed, ensuring fans will have lots more drama to look forward to in the future.
Spoiler alert: This post contains spoilers from Elite Season 5. It's become a sad tradition that each new season of Elite bids farewell to a few fan-favorite characters. In Season 5, it was Guzmán and Ander who disappeared, leaving Sam and Omar as the only characters who've been in every season. Their core friendship was at the center of the season, but much of the storylines also revolved around Las Encinas principal Benjamín's troubled children: Ari, Patrick, and Mencía.
As always, the biggest shock came in the final moments, when Sam discovered evidence connecting Benjamín to Armaldo's murder, prompting Benjamín to lunge at him, unwittingly causing Sam to hit his head on the side of the pool and bleed out in the water. Although Sam was able to remain conscious long enough to tell everyone that Benjamín attacked him, it was left unclear if Elite's main character will survive into Season 6 or not. But now, Netflix has revealed Sam's fate.
Here's everything fans know about the new Elite episodes heading this way.
Elite Season 6 Renewal Announcement
On Oct. 28, 2021, Netflix announced Elite will return for a sixth season. Considering it was picked up months before Season 5's arrival, that was a pretty big vote of confidence by the streaming service. Though Netflix once had the reputation of renewing shows endlessly, nowadays, the service rarely greenlights new seasons of shows without having a full 30 days of streaming data post-release of its current season. (Even Bridgerton had to wait!)
But Netflix had reason to drop the announcement when it did. Along with Season 6, Netflix announced the second batch of Elite: Short Stories for 2021. The three episodes, which streamed in mid-December, focused on Elite's major characters, including stories featuring "Phillipe, Caye, Felipe," "Samuel and Omar," and "Patrick."
Elite Season 6 Cast
Sadly, it looks like Elite will carry on without its core character. A Netflix release confirmed on Sept. 26 that Season 6 will focus on the aftermath of Sam's murder. "After Samuel's death, Las Encinas faces a new school year trying to have a facelift by covering up disasters of the past," the official synopsis read.
Along with Sam's exit, a few other long-time leads will be sitting Season 6 out: Omar, Rebeka, and Cayetana are all not returning, making Season 6 the show's first-ever season without any of the original cast from Elite's first three seasons.
However, a new main cast has already taken over. In particular, siblings Ari, Patrick, and Mencía have quickly become more prominent characters since being introduced in Season 4, and Patrick's rollercoaster relationship with Season 5 newbie Iván will continue in Season 6. Additionally, Season 5 additions Isadora, Cruz, and Bilal are all returning, along with a brand-new crop of Las Encinas students played by Ander Puig, Carmen Arrufat, Álvaro de Juana, Ana Bokesa, and Álex Pastrana.
Elite Season 6 Trailer
There's no Season 6 footage yet. Fans will likely have to wait until later in 2022 to see what happens next.
Elite Season 6 Release Date
Netflix dropped a steamy teaser revealing that Season 6 of Elite will premiere on Nov. 18.
This article was originally published on