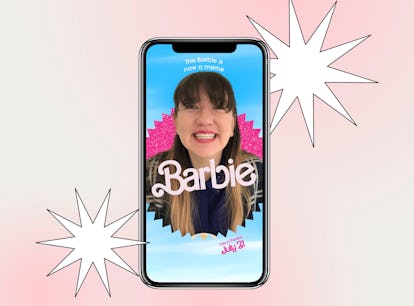 How To Make Yourself A Barbie Movie Poster With Just A Selfie
This Barbie can't wait to be meme'd.
Rachel Chapman/Elite Daily
Don't push those Barbiecore 'fits to the back of your closet just yet. We're still very much living in a Barbie world. After Warner Bros. dropped a new trailer for the Barbie movie coming out this summer, they also released movie posters for each one of the characters in the film. The vibrant posters quickly became the talk of Twitter, with fans excitedly sharing their favorites. Of course, it didn't take long for them to become memes as well. If you're looking to live life in plastic, here's how to make yourself a Barbie meme.
No need to worry if you have zero experience with Photoshop and your image editing skills consist of cropping and that's about it. In fact, you don't need any kind of image editing software at all to join the Barbie movie poster conversation. All you need is a cute selfie of yourself and a funny tagline to go along with it. As you know, each one of the Barbie movie character posters has its own tagline. Aside from Margot Robbie's poster, which says "Barbie is everything," most of the Barbie characters have a tagline that says "this Barbie is" followed by their profession. The Dua Lipa poster says, "This Barbie is a mermaid." On Issa Rae's poster, it says, "This Barbie is president."
So, you'll want to have an idea of what kind of Barbie you are before making your own Barbie meme.
How To Make Yourself A Barbie Movie Poster
Got your tagline down? Alright, let's begin making your own Barbie meme by going to the Barbie Selfie Generator. All you need to do is either capture a photo in the generator or upload one you already have on your phone. The app says that for the best results, you should select or capture a photo of yourself that isn't too close-up and make sure the lighting is good. Once you've found your light, snap and upload to the Barbie generator.
From there, you can adjust your pic to your liking. The tools allow you to zoom in and out, reposition your selfie, and even rotate it. You can also adjust the color of the background to match your pic. While it may default to pink, there's also glittery blue, red, purple, yellow, dark green, orange, and light green. Once you've made those adjustments, it's time to edit your tag.
You have the option to choose "this Barbie is" or "this Ken is" and then fill in the rest. It does self-generate a tagline if you really have no idea what to put, but it makes your meme more LOL-worthy the more specific you get.
To help you come up with some ideas, you can always turn to Twitter. Fans have been churning out some of the best Barbie memes online, like one of Angela Bassett as the Barbie who "did the thing." Even Reneé Rapp shared a version of the Barbie meme to her Insta Story that some fans made of her, and Saint Hoax created a Barbie meme out of Gwyneth Paltrow's ski crash trial. So, everyone really can be a Barbie girl in a Barbie world.