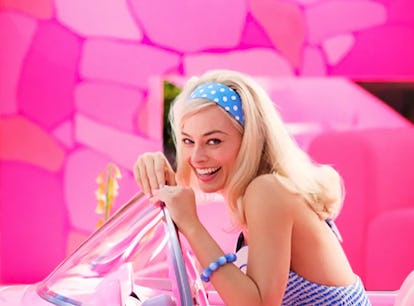 30 Captions For Barbie Costumes & Sharing Your Pink Halloween Slay
Because this is about to be *the* costume of the year.
Warner Bros. Pictures
The hype around Barbiecore is huge right now, which is why you're probably dreaming up a pinkalicious Barbie slay for your Halloween costume for 2022. Whether you're hitting a dream house party on Halloween night or hanging with your best ghoulfriends in your cute costumes, you're bound to be snapping tons of 'fit pics to show off on the 'Gram. There's few characters to dress up as that are as iconic as Barbie, which is why you'll need an equally iconic Barbie Instagram caption to go with your look that brings her pretty plastic to life.
There's so many ways you can style a darling doll costume. You can throw on stylish accessories like big sunglasses and a trendy tiny purse (that's practically doll-sized). Your Barbie costume can even honor the doll's vintage history and reference next summer's highly-anticipated Barbie movie with a neon bodysuit, legwarmers, and roller skates that feel so 80's. Even if you're a brunette, you can still rep the queen of pink with a sky-high pony and plenty of "Barbie girl" attitude. Barbie is all about following your dreams and being uniquely you, so make sure to use your imagination to put your own spin on the classic look — life is your creation. Bookmark these fun Barbie costume Halloween captions now, while you're busy rounding up all the elements for your big barbie moment.
"Imagination, life is your creation." – Aqua, "Barbie Girl"
"It say 'Barbie' on my wrist tat." – Nicki Minaj, "Bussin"
"Think pink."
"I'll show you what a real Barbie looks like."
"Living my Barbie dream."
"I only accept pink Starbursts this Halloween."
"I'm the Barbie doll you'll never get to play with."
"Get your sparkle on. Show this world where you belong." – Barbie, Barbie As Rapunzel
"Come on, Barbie, let's go party." – Aqua, "Barbie Girl"
"Barbie is my role model. She might not do anything, but she looks good doing it." – Paris Hilton
"I dress myself like my own personal Barbie."
"Looking for my Ken."
"I'm not a Barbie, and I'm alright with that." – P!nk
"Every girl is a doll, either Barbie or Annabelle."
"Pink isn't just a color. It's an attitude, too." – Miley Cyrus
"La vie en rose."
"In my Barbie girl era."
"Whoever said orange was the new pink was seriously disturbed." – Legally Blonde
"Love and imagination can change the world." – Barbie, Barbie As Rapunzel
"That's Barbie tingz." – Nicki Minaj, "Barbie Tingz"
"Got my pink-tinted sunglasses on."
"What big dreams you have!" – Barbie
"I've got blonde hair and cherry lips, I'm state of art, I'm microchipped." – Lady Gaga, "Plastic Doll
"I'm a doll but I'm not plastic."
"Pinkalicious state of mind."
"Blondes have more fun, obviously."
"Excuse me, do you know where the mall is?"
"I'm bigger than life... The capital B means I'm about that life." – Beyonce, "Bow Down"
"Always pretty in pink."
"Life in plastic, it's fantastic." – Aqua, "Barbie Girl"
"It's not easy being Barbie."
"Hot Barbie Halloween."
"Feeling like a Barbie girl, I just need a light pink beamer, turn heads with the legs on shimmer." – Doja Cat, "Pretty Girls"
"Listen to the beat of your heart and keep on dancing." – Barbie, Barbie In The Pink Shoes
"Barbie girls just wanna have fun."