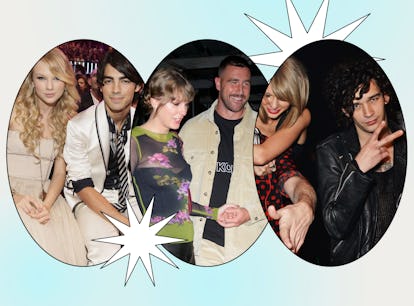 A Look At Taylor Swift's Boyfriends Born in 1989 & Their Compatibility
Are you more astrologically connected to people with the same birth year?
Getty Images: Christopher Polk/Contributor; David M. Benett/Contributor; Gotham/Contributor
It's time to party like it's 1989. Nine years to the day after its release, Taylor Swift's fifth studio album is ready for its second moment in the spotlight, with re-recordings of "Blank Space," "Style," "Bad Blood," and more in tow. To commemorate this special moment in history, it wasn't enough to simply look at her astrological compatibility with 13 of her boyfriends, past and present — this marked the quintessential moment to dive into her relationships with her lovers born in 1989, just like she was.
Swift, born Dec. 13, 1989, is very much an astro girlie, with nods to her sun sign, Sagittarius (aka the freedom-loving Archer), strewn throughout her lyrics; she also has a passionate Scorpio rising and emotional Cancer moon. In astrology, your big three (sun, rising, and moon signs) can tell you so much about your personal identity, and even more about the kinds of people you get along with — but what about your birth year? The former country star's dating history shows more than a couple 1989-ers — including new boyfriend Travis Kelce — so in terms of astrological synastry, does that indicate an automatic green flag or a bad omen?
The Year You Were Born Determines Some Of Your Most Impactful Placements
While inner planets like Mercury and Venus change signs monthly, outer planets like Jupiter and Saturn move much slower, causing them to change positions in the sky less frequently. This prompts most people who share the same birth year to have Jupiter and Saturn in the same zodiac signs.
Your Jupiter placement signifies how you get inspired in life, while Saturn — infamously known for its transformative return period — represents how you exercise discipline and structure. Sharing these placements with another person can indicate that you're motivated by similar things and regulate your life in similar ways. As with all commonalities, this could be a good or bad thing, especially for couples.
For Swift, her relationships with Joe Jonas, Matty Healy, and new bae Kelce — all of whom were born in 1989 — have been a bit of a mixed bag.
Taylor Swift & Joe Jonas' Astrological Compatibility Is Not It
Arguably, Jonas, born Aug. 15, 1989, has the worst astrological compatibility with Swift not just among her '89-born boyfriends, but of *all* of them — and that's with both their Jupiters and Saturns matching up. They both have Jupiter in the receptive sign of Cancer, and Saturn in the opposing, pragmatic sign of Capricorn.
The big difference is that the JoBro was born while the ringed planet was retrograde, so his relationship with self-discipline differs widely from Swift's. The two may have similar goals, but they approach them in much different ways. (And if you know anything about Jonas' Aquarius moon, then you know this pairing is a recipe for emotional disaster.) Forever and always, they are not.
Taylor Swift & Matty Healy's Astrological Compatibility Is Surprising
The multi-hyphenate and Healy may have been born the same year, but the planets weren't exactly aligned on this one. While they both have their Saturns in Capricorn, the 1975 frontman was born on April 8, 1989, a couple months before Jupiter's shift into Cancer (where it was when Swift was born), so his Jupiter's in Gemini. This rules out the similarities they could have had if the "Oh Caroline" crooner was born later in the year.
Birth year aside, the two surprisingly have strong astrological compatibility, due to Healy's laid-back and gentle Taurus moon, something Swift's amenable Cancer moon can appreciate.
Taylor Swift & Travis Kelce's Astrological Compatibility Is A Toss-Up
With Kelce being born on Oct. 5, 1989, and Swift being born a little more than two months later, Jupiter and Saturn hadn't moved too much between their birthdays, giving them a matching set: Jupiter in Cancer, Saturn in Capricorn. This means they can easily relate to each other's approaches to accomplishing goals and overall outlooks on life.
In their case, what matters most is the singer-songwriter's Mars in Scorpio and the Kansas City Chiefs tight end's Venus in Scorpio, which indicates major passion in their connection. It's still up in the air on whether they're endgame, but it'll be a fun ride no matter what.
TL;DR
Although sharing a birth year has the potential to boost compatibility, it's not enough to indicate whether a relationship is built to last; it's still important to consider the additional placements in someone's birth chart. So you better get the tea on the rest of that cutie in class' birth story, because simply knowing he's your year in school just won't cut it.