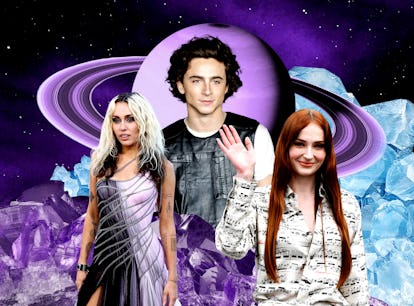 What To Look Out For In Love & Dating During Your Saturn Return
This cosmic reality check doesn't always mean your relationships are doomed.
The celeb relationship chaos of 2022 has nothing on this year's drama. At the top of the year, Taylor Swift and Joe Alwyn called it quits after six years together; months later, Ariana Grande and husband Dalton Gomez's relationship fizzled; more recently, the couple formerly known as Jophie announced their plans for divorce. Is there something in the water, or something bigger at play? While there will always be a variety of factors that go into the rise (and, in these instances, fall) of everyone's individual relationships, the cosmic phenomenon known as the Saturn return — which at least one of the stars in all the aforementioned couples was experiencing at the time of their respective splits — has a habit of deeply impacting people's love and dating lives, for better or for worse.
What Does Your Saturn Return Mean In Astrology?
Your Saturn return literally means just that — the period of time in which the ringed planet *returns* to the position it was at the time of your birth. Since it takes Saturn roughly 29.5 years to make a full orbit around the sun, everyone experiences their first Saturn return around the ages of 27 to 30, giving everyone a huge wake-up call around those years.
While promoting her 30 album in 2021, Adele revealed that it was inspired by what transpired during her Saturn return, including the pain she went through during her divorce from Simon Konecki. Katy Perry also famously acknowledged the three-year period in her 2013 track "By The Grace Of God" following the end of her marriage to Russell Brand in 2011. She croons, "Was 27, surviving my return to Saturn," as the first line of the song, then details how she thought she wasn't enough after a failed relationship.
As the planet of limitations, responsibility, and maturity, Saturn tends to get blamed for the not-so-fun things that happen in life. Though this isn't technically incorrect, Saturn's lessons aren't always negative; many of Saturn's significations have more to do with learning how to set healthy boundaries and implementing self-discipline, skills that will make life easier in the long-run. Unfortunately, when it comes to relationships, the wake-up calls associated with your Saturn return can also coincide with breakups, periods of unwanted singleness, and feelings of isolation. This isn't to say you should be quick to write your love life off and accept your fate of being #foreveralone, but you may find yourself approaching your connections with others much more seriously.
Why A Lot Of Breakups Happen During Saturn Returns
Saturn is the planet that rules over time itself. Sometimes relationships improve and solidify as the years go by, while other bonds may come apart at the seams. If you think back to the years pre-Jaylor and Jophie breakups, Miley Cyrus chose to end her decade-long relationship with Liam Hemsworth during her Saturn return, stating that they "no longer loved each other in the way that they used to anymore." This can be a common occurrence during a Saturn return — a relationship that matures, but ultimately ends.
Kelsea Ballerini also decided to end her marriage amid her own experience with the astrological event. "There is this huge energetic shift within you where you shed your child self and become your adult self," the "Blindsided" singer explained to Stylecaster of her Saturn return. "It's usually surrounded by a lot of friction and a lot of difficult conversations and losing people." But she found herself to be in a better place in the aftermath: "You get to the other side — you're like, 'Oh, sh*t, here I am'."
While the statistics may look a bit grim for those who marry during this transit that happens twice in a lifetime (or three, if you're lucky), Saturn returns don't immediately equal divorce — but they do promise to reveal the reality of your current relationships, whether you're ready for them or not.
No, Dating During Your Saturn Return Doesn't Always End In Heartbreak
Many people's love lives actually thrive during their Saturn returns. This is because the condition of Saturn in your birth chart often determines how this transit will unfold. The house your natal Saturn is placed in indicates where Saturn return lessons will mainly appear. Those with Saturn in the seventh house of romantic affairs and partnerships will see this transit impact their relationships the most, while others without this natal placement may see their Saturn return impact things like money, career, or family.
When it comes to dating during the ringed planet's return, weeding out potential partners that aren't a good long-term fit is something that will become easier, while securing a significant other who's reliable and trustworthy will become more appealing. Since your Saturn return marks the beginning of a new 27- to 31-year cycle, you'll be focusing more on securing things that have been built on solid ground. While this newfound maturity can signify longer periods of singledom for some, Saturn preventing you from making ill-advised decisions in love can be the very thing that saves you from a painful breakup down the line.
Dating during your Saturn return can also coincide with the start of a more serious, mature relationship. (Look at how Ballerini capped off hers with Chase Stokes.) Those experiencing this transit tend to be more intentional with their partnerships, due to the reality check that Saturn brings. This means that if you meet someone who checks your boxes, there's more of a chance that this relationship could be the real thing.
A very recent example of this is the newly confirmed Timothée Chalamet and Kylie Jenner pairing, with the actor's Saturn return starting about six months ago (when the two were rumored to have started dating) amid Saturn's initial shift into Pisces. While this doesn't exactly mean the relationship is end game, Saturn is the planet that rules over longevity, so a relationship that begins now could be a serious one.
So, before you ghost your Hinge match or write off dating altogether, remember that your Saturn return isn't meant to screw up your relationships; it's actually meant to help you make wiser and more realistic decisions in life — and in love.