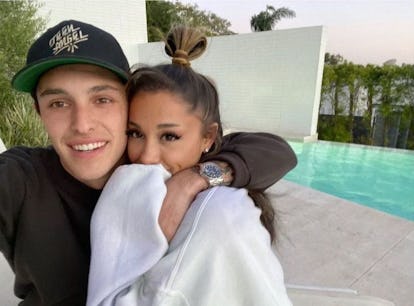 Here's The Reported Reason Ariana Grande & Dalton Gomez Broke Up
Long distance strikes again.
@arianagrande on Instagram
Things are reportedly over for Ariana Grande and Dalton Gomez. On July 17, one day after Grande attended Wimbledon sans her wedding ring, TMZ published a story saying that Grande and Gomez's relationship "is heading for divorce."
Per an Us Weekly source, the couple, who married in May 2021, has "been having some issues for months now" after hitting a "rough patch." The insider explained, "They were having issues before she left for Wicked filming [in London] that they couldn't resolve, and the distance did not help. They haven't been speaking and are separated, and a divorce is likely."
It sounds like long distance was the main culprit here. Grande has spent most of the past year in the U.K. for work, while Gomez's job as a luxury real estate agent kept him in California. "She was happy in Los Angeles for a couple of years. She wanted to make a life there with Dalton," a source told People. "He is super focused on his career and needs to live in Los Angeles... It's definitely been an issue for them. Dalton's career is demanding and he can't leave Los Angeles often. So when [Grande] started filming Wicked in England, they were in for a long-distance marriage."
Apparently, Grande and Gomez mutually agreed to go their separate ways. "They came to the decision together," a source told Page Six, explaining that the couple has been separated since January. "They were having problems before January, but they want to remain best friends."
However, fans aren't quite convinced, with some pointing out that Grande posted about her and Gomez's second anniversary in May 2023. Gomez also reportedly shared a sweet message on Grande's birthday on June 26, calling her his "pixie."
There's also the fact that Grande and Gomez haven't confirmed the rumors themselves. Still, according to a People source, the separation is legitimate, even if the couple has "been quietly and lovingly working on their friendship" in the meantime.
Some fans, reluctant to believe the reports, are pointing out how Grande has previously addressed divorce rumors directly. Last August, she mentioned in a video that her wedding ring was getting cleaned, shutting down any speculation before it could start.
Other fans are already thinking about what this could mean for Grande's new music.
So far, Grande has stayed quiet — and she hasn't mentioned anything about her missing wedding ring at Wimbledon, either.
Now that more and more outlets are reporting the separation, some fan accounts are starting to believe it... even if they're devastated.
Grande and Gomez have been together since 2020, and they reportedly started dating that January. They got engaged in December of that year before officially tying the knot in May 2021 — though all the IGs of these milestones have since been removed from Grande's profile.
She's definitely been active on social media: On July 17, Grande has shared stories and a feed post about her day at Wimbledon without acknowledging any speculation. Time will tell whether she decides to speak out more directly.
This article was originally published on