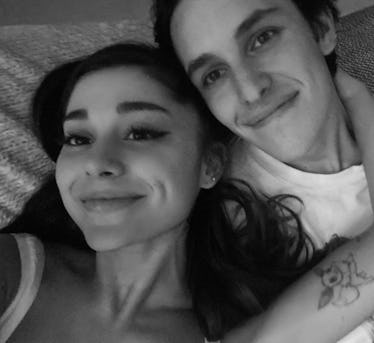 Ariana Grande & Dalton Gomez's Relationship Timeline Is A Whirlwind
Instagram/@arianagrande
Now that they are engaged to be married, I think it's time to take a look back at Ariana Grande and Dalton Gomez's relationship timeline. If you haven't been keeping up with the pop star and her real estate mogul husband-to-be, I don't blame you. This relationship got serious real quick. And, like, there were a lot of other pressing matters to pay attention to in 2020! No matter how much you love the Positions singer, it can be hard to keep up with her love life when there's an election, a pandemic, and about a million other stressful things distracting you.
So, let me catch you up on what's been going on between them. A more detailed timeline can be found below, but the TL;DR version is that the world first learned about Grande and Gomez when they were spotted making out at a bar in February 2020. At that time, a source claimed they had reportedly been dating since January. In March, they reportedly decided to quarantine together, and in May, Gomez made an appearance in Grande and Justin Bieber's "Stuck With U" music video. He's made a few appearances on her Instagram since then and reportedly inspired a few songs on her Positions album, which came out in October. She announced their engagement in December.
It's a whirlwind, right? Process it step-by-step below.