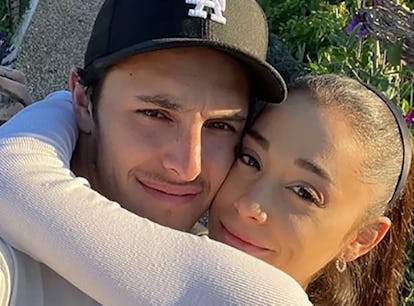 Ariana Grande & Dalton Gomez Filed For Divorce… At The Same Time
She wrote him a check, per a source.
Instagram: @arianagrande
Ariana Grande and Dalton Gomez are letting their lawyers do the talking. On Sept. 18, TMZ reported that Grande and Gomez filed for divorce after more than two years of marriage, citing "irreconcilable differences." The outlet called the move "clearly-coordinated" since their suits were filed so close together, Gomez's coming "immediately after" Grande's. Apparently, they settled most of their issues ahead of filing. Here's everything to know about their petition for divorce.
According to the divorce filing, obtained by TMZ, Grande and Gomez first separated on Feb. 20. Already months in the making, it doesn't sound like the divorce will be drawn out much further. Per the outlet, the couple had a prenuptial agreement in place. "They've been really caring and respectful of one another every step of this process," a source told TMZ. They also claimed that as part of their split, Grande will write Gomez a check. (The insider did not share the check amount.)
The same day as the filing, a source told People that Grande and Gomez were "taking their time together to slowly work through the details of the agreement privately." The insider said that the breakup was "kind and patient," adding that both of them have "moved on."
Rumors of Grande and Gomez's breakup started in July after Grande attended Wimbledon without her wedding ring. At the time, a source told Us Weekly, "They were having issues before she left for Wicked filming [in London] that they couldn't resolve, and the distance did not help. They haven't been speaking and are separated, and a divorce is likely."
Although Grande and Gomez have not spoken publicly about the breakup, there are plenty of rumors surrounding their split — and many of them have to do with Grande's co-star Ethan Slater. Per sources, Grande and Slater started dating after splitting with their respective partners. This timeline is supported by Grande's divorce filing, which placed her separation from Gomez in February.
However, according to Slater's wife (and high school sweetheart) Lilly Jay, things are a bit messier. On July 27, Lilly Jay spoke directly to Page Six, saying,"[Ariana's] the story really. Not a girl's girl... My family is just collateral damage."